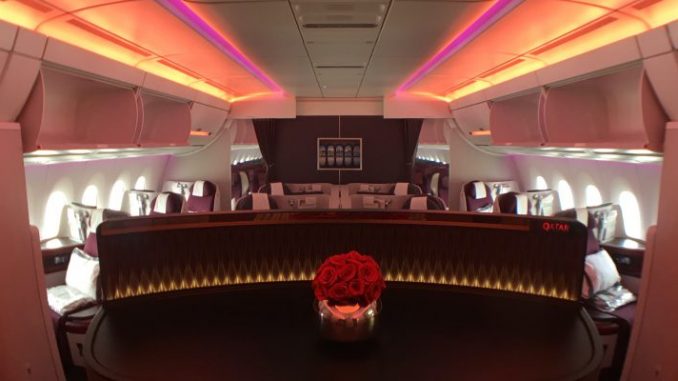 This May I had the unique opportunity to travel onboard Qatar Airways' Airbus A350 aircraft. With it being the newest aircraft in Qatar's fleet, I was more than looking forward to the opportunity to travel with the airline, as well as visit their new airport, Hamad International. This portion of the trip report will focus mostly on my transit time, what I was able to see, and an interesting look inside one of the fastest growing hubs in the world.
I touched down a little before 7:00AM local time in balmy Doha, Qatar. I had just experienced an amazing flight on Qatar Airways' new Airbus A350XWB from New York's John F. Kennedy international Airport. We parked at a remote stand, which while not ideal, was quickly managed as Qatar Airways had plenty of busses waiting for all the passengers. Economy passengers were held back while all business passengers disembarked first, a nice touch.
As I neared the bottom off the airstairs, I saw a member of the Qatar Airways staff waiting with my name on a card. I met up with her and she escorted me to the bus. We chatted on the bus ride back to the terminal talking about my flight and what I would like to do while I was here on my layover.
We arrived at the main terminal building, and since I was a transit passenger I had to pass though a security screening to enter the airport. It was quick and simple thanks to my Qatar Airways escort. We zipped through a VIP line, and in less then 2 minutes I had my bags and we were headed up the escalator to the main terminal area. As we approached the top of the escalator, I could hear the buzzing of hundreds of people who were moving in all directions to head for their flights. It's amazing to see how many people are transiting though Hamad International Airport given that it's been open a relatively short amount of time.
My Qatar Airways escort led me to The Airport Hotel (that is the actual name). The Airport Hotel is inside Hamad International Airport after security, providing a quick and easy way to get to your connecting flight after relaxing and freshening up. We headed up the elevator, and after a few minutes I was checked into the hotel. You can only use the hotel if you are transiting and have your onward boarding pass. Since flights depart and arrive at all times of the day and night in the Middle East, the hotel offers all sorts of pricing packages that will fit your connection time and budget.
I was stunned at how spacious and gorgeous the room was. I couldn't believe it…was I really in an airport hotel?! Fine wood floors and accent lights greeted me as I entered. There was a large bathroom with a huge walk in rain shower. All the toiletries you could need were provided. There was a huge amount of closet space to hang up those shirts that had been balled up in my luggage from the first flight.
A flat panel TV was mounted on the wall, and a nice glass desk was available if you needed to get some work done before your next flight. The most important part of the room, the bed, was everything and more of what I expected it to be. As soon as my head hit the plush pillows I passed out and slept for 6 hours straight. I woke up very thirsty, and luckily there were two complimentary bottles of water in the room.
I enjoyed my window that opened up to the main terminal area. I couldn't hear a thing in the room due to the double pane windows blocking all that terminal noise from entering my peaceful room. I would just stand there and watch thousands of people moving about while I enjoyed my little oasis inside the beautiful airport. I had another 6 hours before my flight boarded, so I decided to do some airport exploring. First I went to the elevators and went upstairs to find a gym and pool.
The pool is included in the price of your stay at The Airport Hotel. If you're not staying at The Airport Hotel but want to get a swim in before your flight, you can pay a nominal fee to use the facilities. It was very relaxing up there, with lots of towels provided and lounge chairs to lay on. After a quick dip in the water, I headed back to the room for a nice relaxing shower. After that, I proceeded down into the main terminal area and took advantage of the opportunity to explore. It was all too weird to be walking around with no luggage, but was a nice change of pace not having to roll my bag everywhere. I was relaxed, and could actually take my time and enjoy everything Hamad International Airport had to offer.
I walked around every shop they had there, from duty free to the Harrod's store. I had the time to check them all out in detail. After looking at all the shops, I decided to head to the Qatar Airways Al Mourjan Business lounge. If you have an onward flight in Qatar Airways first or business class you can use their lounges at any time, they are open 24 hours. I headed in to have a light meal and enjoy the facilities that they had to offer. I walked around the enormous lounge for about 30 minutes. If you don't have lounge access there are plenty of food and beverage options for every budget.
I headed back to my room and started getting my things together. My flight was boarding at 1:50AM, and a representative from Qatar Airways was waiting for me at The Airport Hotel lobby, ready to escort me to my next flight. She was very pleased to hear my thoughts about my stay in Hamad International Airport for the past 20 hours. She took my passport and boarding pass, walked me to the front of the line and wished me a very pleasant flight.
Overall, I was very impressed by the whole experience. I was dreading a 20 hour layover at the airport, but this wasn't anything to cringe about. This was relaxing, fun, and enjoyable. I was refreshed and ready to take on the 10 hour flight to Cape Town.
Note: We paid for our own flights on Qatar Airways, but the airline did pay for our stay at The Airport Hotel and provided meet and greet services.
AirlineGeeks.com began in February, 2013 as a one-man (er… teenager, rather) show. Since then, we've grown to have 20 active team members, and yes, we're still growing. Some of us are looking to work in the aviation industry as professionals when we grow older. Some of us are still trying to decide what we want to do. That's okay though, because we're all here for the same reason: we love the airlines. We're the youngest team of airline industry journalists out there.
Latest posts by AirlineGeeks.com Staff (see all)