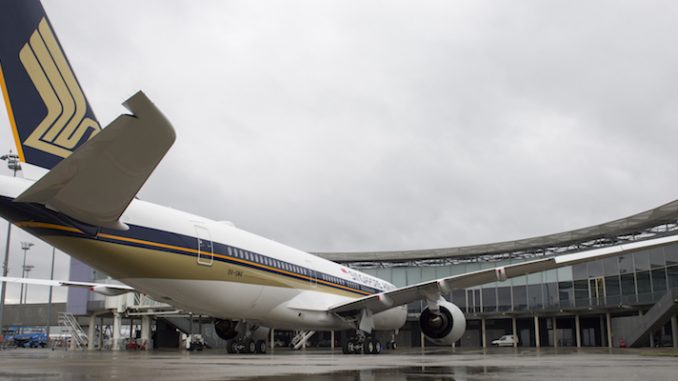 Singapore Airlines has announced that they will start new service to San Francisco, California in October of 2016, allowing the airline to serve the United States for the first time since 2013.
This announcement comes exactly two weeks after Star Alliance member, United, started service on the same route. The two airlines have been notorious for having many differences, which suggests that Singapore Airlines plans to use the route as direct competition with United. Singapore stated that they will resume Singapore – Los Angeles and Singapore – Newark services in 2018 once the extended range version of the Airbus A350 arrives.
"Our customers have been asking us to offer more U.S. services and we are pleased to be able to do so. With new non-stop San Francisco flights and the increase in frequency to Los Angeles, customers will have two flights to choose from each day to both of these popular U.S. West Coast destinations," said Senior Vice President Marketing Planning, Ms. Lee Wen Fen.
Singapore Airlines managed to get a little creative when it came to building up the hype for the new route. A day before the announcement, Singapore Airlines posted a video on their Instagram page with a caption of "Coming, months earlier." The video had an equation which read (2+0+1×6)(2+0+1/8)+(3×5+0)-(2+0x1+6). Can you solve the problem? That's right, it's 24. "Coming [24], months earlier" would make sense considering they are starting the new non-stop service to the United States two years earlier than they planned.
While Singapore is launching the new service, it isn't the first time it has served passengers directly from Singapore to the United States. Beginning in 2004, the airline operated a non-stop flight between Singapore and Newark International Airport, utilizing an Airbus A340 to go the long distance. Initially the aircraft included both premium economy and business class seats, but would eventually transform into an all-business class flight fit for 100 passengers. Unfortunately with rising fuel costs for an aircraft featuring four engines, as well as declining revenue, the flight was cancelled in 2013. However, Singapore has made it very clear that it had hoped to restart non-stop service once the economies of scale made sense.
"Nonstop operations are critical for us," said James Boyd, a spokesman for Singapore Airlines in New York. "They are a staple for corporate travel that we've served for many years."
Another interesting observation is that Singapore Airlines opted to use the new Airbus A350-900 which is Airbus' competition with Boeing's 787-9 in which United operates. The Airbus A350-900 operated by Singapore seats 253 passengers, while the United configuration onboard its Boeing 787-9 only seats 145.  The A350 also has 465 nautical miles more range than the 787, making it a great fit for this long-range flight.
Matthew Garcia became interested in aviation at the age of 12 when he installed Microsoft Flight Simulator X on his computer. He was instantly "bitten by the bug" and has been in love with aviation ever since. Matthew took his first introductory flight in 2013 and began normal flight training in February of 2015. Over the years, Matthew's love and knowledge for aviation has grown tremendously, mainly due to FSX. Garcia flies highly advanced aircraft in a professional manner on a highly complex virtual air traffic network simulating real world flying. In 2016 Matthew achieved his private pilot certificate from the FAA. Now he studies journalism at the University of Nebraska at Omaha.
Latest posts by Matthew Garcia (see all)