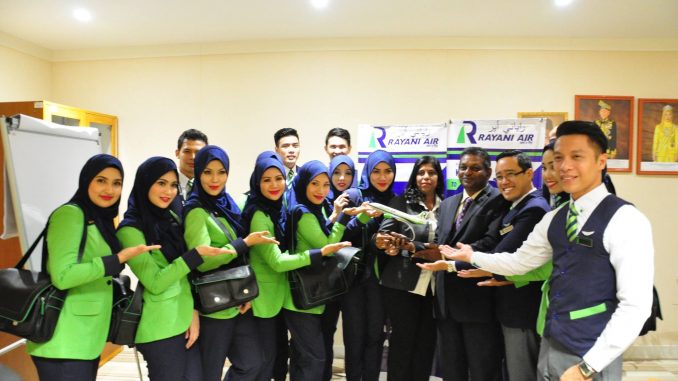 The Malaysian government announced late last month that they have revoked Rayani Air's Air Operators Certificate, permanently grounding the airline. Azharuddin Abdul Rahman, the director general of Malaysia's Department of Aviation, stated that the decision to revoke the certificate was due to concerns of the "safety and security of the aviation industry" that the airline caused.
Rayani air was founded in January of 2015 by Ravi Alagendrran and his wife, Karthiyani. The couple mixed their first names together to create the company name. The airlines inaugural flight was flown with one of its two leased Boeing 737-400's. The flight departed Rayani's hub in Kuala Lumpur and flew to Langkawi on December 20, 2015. The airline has, or had, service to 5 destinations including Koto Bharu, Kota Kinabalu, Kuching, Langkawi, and of course, Kuala Lumpur.
The airline proudly stated that its goal was to provide air service while following Islamic faith guidelines. Rayani Air did not serve alcoholic beverages, flight attendants said prayers before each flight, and females, both passengers and crew, were required to wear hijabs, which are Islamic head scarfs. Non-Muslim passengers were asked to dress "appropriately" by the airline.
Rayani Air received a significant amount of complaints which played a significant role in the downfall of the airline. Passengers reported that the airline would cancel flights without notice and would make no attempts to accommodate the passengers. The airline also would delay flights for as long as 13 hours, again, with no accommodations. Passengers also expressed concern regarding the handwritten boarding passes which were occasionally handed out at the check in counters.
Rayani Air applied for an appeal that will give the airline a "second chance" and give the company's investors more time to save the airline. A Malaysian Aviation Commission (Mavcom) official stated that due to the airline not having any assets such as buildings or aircraft, they could not file for another appeal. Another appeal would allow the company to continue operating for a short extended number of days.
Rayani Air's founder, Ravi Alagendrran, stated that the "revocations came at the peak of our negotiations with investors for the acquisition of equity in Rayani Air on realization that the present owners and their management are no longer fit to revive the airline."
The governments decision to stop Rayani Air's service came just one day after the pilots held a strike with attempts of "internal sabotage" according to several sources. Reports state that nearly 485 staff members went unpaid. Pilots also complained of hydraulic issues with the company's 737's that were leased from Neptune Air Limited. Customers who requested refunds on their tickets purchases back in May finally received checks, but with one problem. The checks bounced, leaving customers with no refund. Close to 200 passengers are still awaiting reimbursements worth a total of nearly 150,000 Malaysian Ringgit dollars.
"We apologize to all our passengers. We will take this time to work out the operations and technical issues that have surfaced," Alagendrran retold Malay Mail. The same source also quoted an Ravi as saying "you may instruct your (subordinates) to close down the operations and re-count back the company assets," in an email to company employees.
Matthew Garcia became interested in aviation at the age of 12 when he installed Microsoft Flight Simulator X on his computer. He was instantly "bitten by the bug" and has been in love with aviation ever since. Matthew took his first introductory flight in 2013 and began normal flight training in February of 2015. Over the years, Matthew's love and knowledge for aviation has grown tremendously, mainly due to FSX. Garcia flies highly advanced aircraft in a professional manner on a highly complex virtual air traffic network simulating real world flying. In 2016 Matthew achieved his private pilot certificate from the FAA. Now he studies journalism at the University of Nebraska at Omaha.
Latest posts by Matthew Garcia (see all)