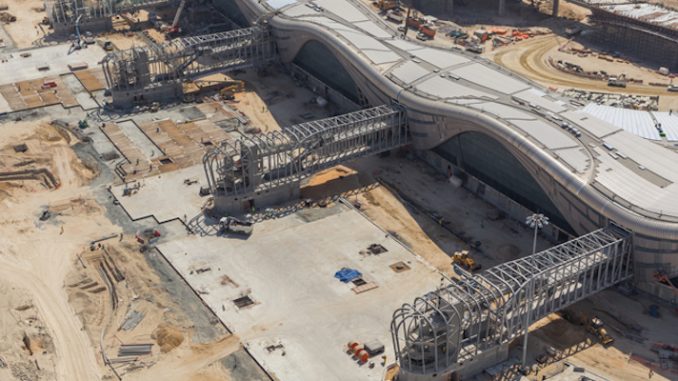 With approval from the Executive Council in Abu Dhabi back in 2012, a new path was set forth to create an iconic terminal not just to host the country's home carrier, Etihad Airways, but to fuel the country's continued growth. Now just over four years later, the AED $19 billion project is getting closer every day to wrapping up, with an expected completion date in December 2017.
While others may be quick to note that it is simply a new terminal and nothing to be excited for, taking a closer look reveals a new building that inches the bar even higher for those wanting to have expanded airport's in their home cities around the world. A 180-meter arch, a ceiling that resembles the desert, 65 gates and the capacity to handle over 30 million passengers a year is nothing short of an astonishing feat. That doesn't include the on-site hotel or the massive lounge space and retail areas, which further put the airport into the same hyper-competitive luxury airport category with nearby Dubai and Doha, Qatar.
When all is said and done, the airport will require over 50 million employee working hours, enabling it to become the largest building in the entire city. Abu Dhabi International Airport posts regular updates on its site, and has indicated that substantial progress has been made in the last year and the project continues to be on track. The airport has a growing need for more space as Etihad continues to add more flights, and passengers' expectations continue to escalate.
"Midfield Terminal Building will have commercial space, there will be retailers, food and beverage outlets, which will make passengers stay and spend time in the emirate," said Alp Eke, the Senior Economist at National Bank of Abu Dhabi (NBAD).
Abu Dhabi, similar to Dubai and Qatar, has successfully utilized their airport to expand tourism to and through the city, resulting in more business from travelers and commercial transactions. With oil hitting all-time lows earlier this year, Abu Dhabi's continued commitment to the airport highlights the desire to diversify further away from being simply based on oil revenue, and creating a well-balanced economy that can weather many of the financial swings that have occurred globally.
In the meantime, work continues to be done every single day on this iconic terminal, and is expected to be 90% completed by the end of 2016.

Joe joined AirlineGeeks in 2014, and in his current role as Editor-in-Chief manages a growing team of writers both in North America and Europe. He enjoys spending the bulk of his time researching, learning and analyzing the latest trends in the airline industry, all while mentoring new members of the AirlineGeeks team who seek to do the same. Areas of research include revenue management, codeshare and alliance partnerships and airline financial results.

Latest posts by Joe Pesek (see all)