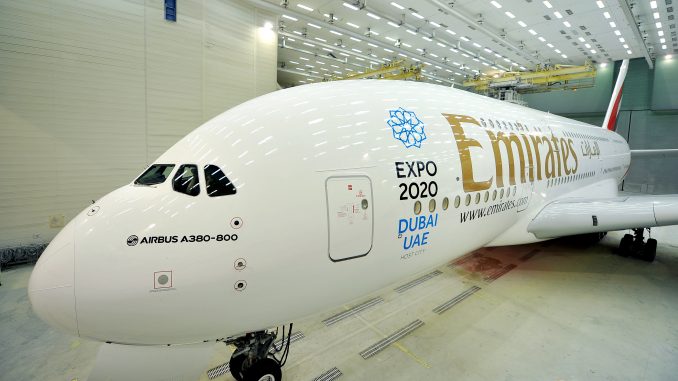 Emirates announced today that Johannesburg will be the next city in its network to receive Airbus A380 service.
Currently, Emirates uses the Boeing 777-300ER to serve Johannesburg with four daily flights. Beginning February 1, one of the daily flights will be operated by the A380.
The Schedule
| | | |
| --- | --- | --- |
| Flight # | Departure | Arrival |
| EK761 | Dubai 4:40am | Johannesburg 10:55am |
| EK762 | Johannesburg 1:25pm | Dubai 11:45pm |
*All times local and according to current schedule
Emirates provides its customers with convenient connections from Johannesburg to destinations across its global network, especially in Europe, West Asia, the United States and the Far East, with just one stop at its Dubai hub.
The Emirates A380 features an onboard lounge and bar, showers, and  seats a total of 516 passengers in a three-class configuration: 14 Private First Class Suites, 76 Business Class seats, and 426 Economy Class seats. The airline currently operates 81 of the aircraft with an additional 61 on order, making it the World's Largest Airbus A380 Operator.
Johannesburg is the airline's busiest route in its African network and the airline has carried over three million passengers in the past five years on the route. Emirates began service to South Africa 21 years ago and serves Cape Town three times daily and Durban once daily. The A380 flight will be operated as a codeshare South African Airways.
Tyler has been an aviation enthusiast for as long as he can remember and is currently pursuing a Bachelor's degree in Aviation Administration with a minor in Social Media Marketing from Lewis University in Romeoville, IL. His preferred airline is United and his favorite aircraft is the Boeing 777 and 757. Tyler has his fourth-degree black belt in Taekwondo and is unlikely to be seen without Starbucks in his hand. He is also an avid plane spotter. Tyler always has a smile on his face and his eyes pointed skyward.
Latest posts by Tyler Tashji (see all)