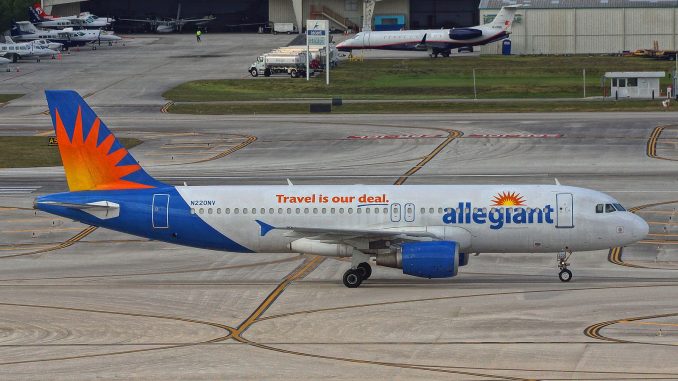 Allegiant Air is a low-cost airline that began in 1998. Originally founded as a charter airline operating out of Las Vegas, the airline has gone through many changes in the last 18 years. Headquartered in Summerlin, Nevada, Allegiant has a very sizable presence at McCarran International Airport.
Allegiant Air's fleet consists of only 85 planes. The bulk of the fleet is the 50 McDonnell Douglas MD-83s and MD-88s that are scheduled to be fully replaced by 2020. With the start of the upgrading process there are 31 Airbus A319 and A320s that are already in service today. The rest of the fleet includes several Boeing 757s that Allegiant purchased in 2010 to create non-stop flights into Honolulu, however that route will be ending this year.
Every aircraft in the fleet has been purchased, used or leased so purchasing 12 new A320s is a big step for the airline. With the selling of the 757s and replacement of the MD-80s, they will soon be an exclusively All-Airbus fleet.
Much is to be said about airlines with brand exclusive fleets. Southwest and Alaska are proud to operate entire Boeing fleets and have been successful in doing so.  The Airbus A319/A320s that Allegiant is moving towards makes perfect sense based on the airports they serve. Comparable to the B737, the ability to operate out of smaller airports such as Orlando (SFB), St. Petersburg (PIE), and Phoenix/Mesa (AZA) which are 3 of its top 5 departure airports, is why the airline is moving towards these aircraft.
Unlike the larger companies, of Allegiant's 344 routes there are no other airlines flying 288 of them giving them an elite opportunity to build up and increase profits with the new fleet and grow as a company in the industry.

Shane started as an airline geek on the first day that his mother brought him to work with her as a kid at Dulles Airport. Visiting the ground control tower, driving out on the ramp, and even sitting in the engines, he knew this was something awesome. After learning all the aircraft types and collecting countless model planes, he was addicted. After college, Shane worked at the FAA command center and gained in-depth knowledge of the industry he already loved. For over 5 years, he has worked mainly in Information Technology with the Department of Defense and various military organizations, however continues to grow his passion for aviation and the world of flying. Still today he can't go to the airport without staring out towards the runway or look up to the sounds of something overhead.

Latest posts by Shane Piper (see all)