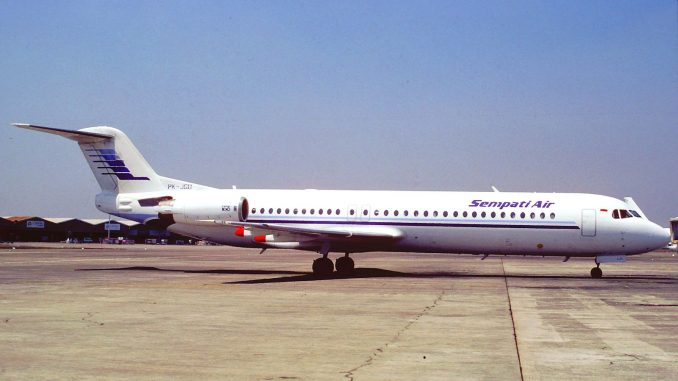 Founded in 1968, Indonesian carrier Sempati Air under the name PT Sempati Air Transport was born. At the start. the airline offered transportation for oil workers rather than regularly scheduled passenger operations. However, soon afterwards, following the acquisition of the F-27 aircraft and additional DC-3s, Sempati Air launched passenger service to Kuala Lumpur, Manila, and Singapore.
In 1975, the Boeing 707 was introduced to the growing airline, leased from Pelita Air. Two years after, the DC-3s were slowly removed from Sempati Air's fleet in favor of newer aircraft. Government restrictions on private airlines acquiring new equipment thwarted Sempati's attempt at growth, and as a result, it was not until the late 1980s when Boeing 737-200s and Fokker 100s were made the newest addition to their fleet.
Also in the late 80s, the airline was purchased and distributed among three investors. Following this action, CEO Hasan Soedjono made substantial expansion plans aiming towards the goal of becoming one of the largest airlines in Asia, including the launch of a Jakarta-Abu Dhabi route. However, problems struck the airline when the airline was unable to acquire Boeing 767 aircraft and a deal with Garuda Indonesia fell through to buy the competing airline's DC-10 aircraft. As an alternative, the carrier purchased Airbus A300s from PanAm, which led to new destinations in Australia and Asia.
By 1994, the airline officially changed its name to Sempati Air and earned the rank of Indonesia's best airline as far as in flight service and their status as launch customer of the Fokker F70. However, just two years later, the successful but debt-stricken airline became overcome with financial difficulties, and was subsequently forced to declare bankruptcy despite all attempts to salvage the failing carrier.
Ashley is currently a senior in high school and plans on pursuing a career in aviation or journalism. Her favorite airplanes include the Boeing 777, 737MAX, and Airbus A350. She enjoys taking flights on various airlines to different airports and planespotting at her local airports.
Latest posts by Ashley Magoon (see all)