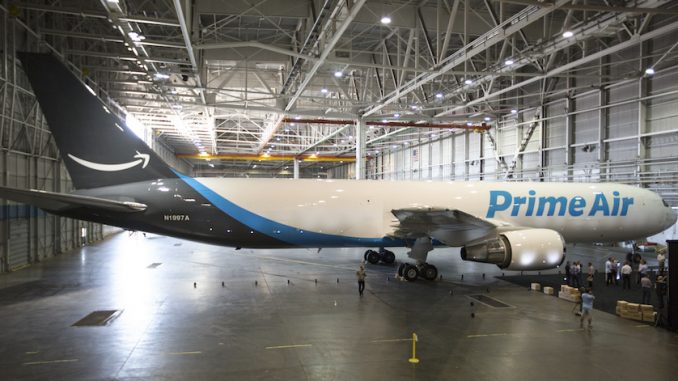 The world's most valuable retailer, Amazon, has reached a huge milestone in global delivery and logistics. They are revealing their first branded airplane, a 767-300F named "Amazon One." The company has planned to lease 40 aircraft through their partners Atlas Air and Air Transport Services Group. There are 11 airplanes currently flying dedicated to shipping Amazon goods due to its massive scale of business, however to have their own branded aircraft is a step in the right direction to compete with Fedex and UPS.
The new "Amazon One" is a 767-300F which is utilized in the global logistics market. UPS alone operates 59 of these airframes making up almost 25% of their entire fleet. FedEx operates 32 767s, however they rely heavily on the comparable 757. Interestingly, Fedex has over 70 more of the 767-300Fs on order from Boeing.
Amazon will be debuting "Amazon One" at the Seattle summer festival, Seafair. The festival, among other events, includes the Boeing Air Show which will be the perfect fit as Amazon's headquarters is in Seattle.
With 125 fulfillment centers, they will sure have their pick with a nearby airport that has the infrastructure to hold Amazon's new 767s. FedEx operates their "Superhub" out of Memphis, Tennessee and UPS calls Louisville, Kentucky their "Worldport."
Not only is the unveiling of "Amazon One" and its livery a great story for aviation, it will be an unraveling of news about the impact of global logistics and competition against the other large shipping companies. The next time you two-day a new tablet or a pair of socks from the retail giant just think it could be taking a ride on the newest cargo aircraft in the skies.
Follow us on Twitter for live updates on the aircraft's activities at SeaFair.

Shane started as an airline geek on the first day that his mother brought him to work with her as a kid at Dulles Airport. Visiting the ground control tower, driving out on the ramp, and even sitting in the engines, he knew this was something awesome. After learning all the aircraft types and collecting countless model planes, he was addicted. After college, Shane worked at the FAA command center and gained in-depth knowledge of the industry he already loved. For over 5 years, he has worked mainly in Information Technology with the Department of Defense and various military organizations, however continues to grow his passion for aviation and the world of flying. Still today he can't go to the airport without staring out towards the runway or look up to the sounds of something overhead.

Latest posts by Shane Piper (see all)