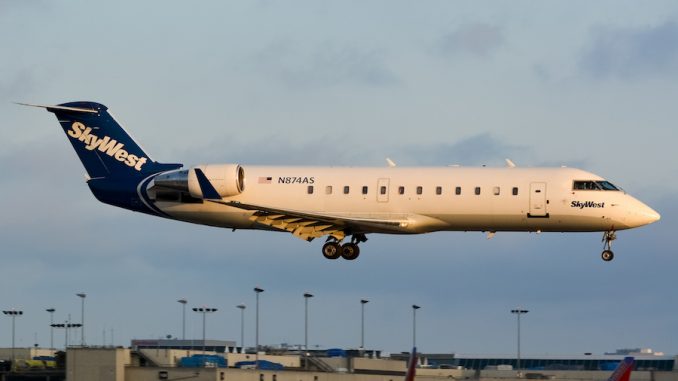 Last month, SkyWest, Inc. announced another profitable quarter, continuing a positive trend marked by increased E175 flying and a reduced CRJ-200 fleet. Both SkyWest Airlines and ExpressJet enjoyed a 99.9% completion rate excluding weather cancellations, building on success from a year earlier.
SkyWest, Inc. CEO Chip Childs stated, "The year-over-year improvement in our profitability reflects the value from our on-going fleet transition efforts coupled with continued strong operating performance. We remain focused on improving our long-term fleet economics, reducing fleet risk and delivering exceptional service to our passengers and major partners."
SkyWest continues to draw down its fleet of 50-seat aircraft, pulling at least 26 ERJ-145s from American and United in the past year and 20 CRJ-200s from multiple airlines. American's CRJ-200 contract with SkyWest, first begun in 2012, is set to expire at the end of this year and will not be renewed. Instead, SkyWest has begun flying 7 CRJ-700s for American. At the same time, SkyWest has slowly been adding new E175 service for Delta, United, and Alaska. SkyWest currently operates 56 E175s between United and Alaska, and will add an additional 30 new E175s, including 13 for Delta, by the end of 2016.
Fleet and flying changes at SkyWest and ExpressJet resulted in a slight decrease in load factor for the second quarter at 83.2%, down from 84.1% at the same time in 2015. However, the newer, larger aircraft have proved to be more profitable for the airlines, increasing yield per revenue passenger mile (RPM) from $0.100 in the second quarter of 2015 to $0.108 in 2016.
While SkyWest's fleet plan has proved successful for the company, it continues to leave the fate of SkyWest's 100-aircraft Mitsubishi MRJ90 up in the air. Deliveries were scheduled to begin next year, however, scope clauses at the major airlines prevent regional airlines like SkyWest and ExpressJet from operating larger aircraft like the MRJ90. Unless SkyWest receives an exception from these scope clauses, the company will not have a role for the airplane when it arrives. Given SkyWest's success with the E175, and with another 100 E175-E2s already ordered, it appears unlikely that the MRJ90 will be flying with SkyWest anytime soon.
AirlineGeeks.com began in February, 2013 as a one-man (er… teenager, rather) show. Since then, we've grown to have 20 active team members, and yes, we're still growing. Some of us are looking to work in the aviation industry as professionals when we grow older. Some of us are still trying to decide what we want to do. That's okay though, because we're all here for the same reason: we love the airlines. We're the youngest team of airline industry journalists out there.
Latest posts by AirlineGeeks.com Staff (see all)