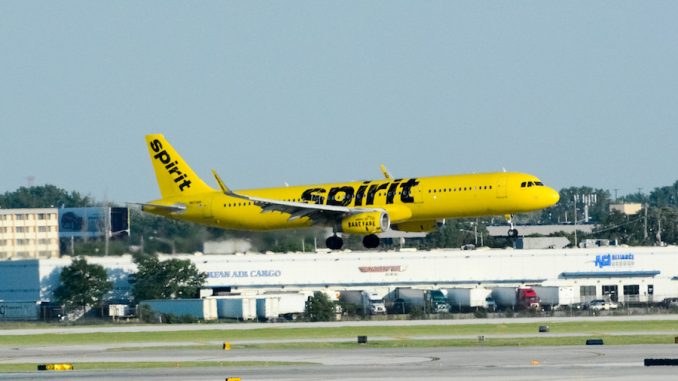 Spirit Airlines has a reputation for offering a bare fare. As the United States's first Ultra Low Cost Carrier (ULCC), the airline prides itself on offering the lowest fare. In order to compensate for that the airline charges for nearly everything, including carry-on bags that won't fit under the seat, all drinks, and even to print boarding passes at the airport by an agent. Because of this barebones style of operation, Spirit is often under criticism for poor customer service. I decided to test their service out on a short hop from Ft. Lauderdale to Orlando.
The short flight was priced at $39.99 before taxes. After taxes and fees the total for the one way fare was about $64. Bags, including carry-on bags can be purchased online at the time of booking. As I was only going to Orlando for the day, I only had a small backpack with me that is included in the fare.  
The flight was scheduled to leave Ft. Lauderdale at 7:10 am and arrive in Orlando at 8:08 am. I arrived at the airport at 5:50 and managed to get through security in ten minutes. Although Spirit is not part of TSA PreCheck yet, the line was quick moving. Flight 138 to Orlando was departing from Gate G11, in the new G Concourse at Ft. Lauderdale. The new G Concourse is bright and airy, with large glass windows overlooking the ramp. The new concourse is a welcome new design for Ft. Lauderdale Airport. The current design in many of the concourses is very dark and has a narrow feeling. Broward County Aviation Department, the operator of the airport, is currently constructing two new concourses at the airport: Concourse A and a new Concourse H which will have the same feel of the new Concourse G.
The flight began boarding at 6:20. Spirit boards in zones with passengers who have purchased carry-on luggage allowed to board in Zone 1. This is to speed up the boarding process and allow passengers with carry-on luggage to store them before those with just personal items board. I had been assigned seat 6F for this flight. The aircraft for today's flight was N667NK, a three month old Airbus A321 with sharklets.
The cabin of the new Airbus was clean and well maintained. The leather slimline seats felt comfortable for the short flight. At 6:59, the cabin doors were closed and a few minutes later we were taxiing out to runway 10L. Because Spirit is an Ultra Low Cost Carrier, there were no seatback pockets. Instead there was bungie cords to hold the safety card and the tray table was about half the size of a standard tray table. After a quick taxi we rocketed off of 10L into the South Florida morning.
Once we were established in our climb the flight attendants jumped into action. Even on the short hop, they went through the cabin to offer drinks and snacks for sale. The flight was advertised as 58 minutes long, however at 7:27 we began our descent into Orlando. The flight was smooth and pleasant although there were a few cumulonimbus clouds we navigated around. We made a straight in approach to Runway 35L and touched down at 7:42. After a slightly lengthy taxi we clocked in at 7:51 making a total block time of 52 minutes.
Despite the negative review Spirit receives, I found my short journey enjoyable. One of the biggest problems that people have with Spirit is their nickel and dime attitude however when making a booking on their website they are very clear with what fees they charge. Spirit sells a base fare for their flights and allows passengers to add on what they need. It is a business model that allows them to keep their base fares low. Although the inflight service may not be comfortable for a long haul flight, the short hop to Orlando felt comfortable enough.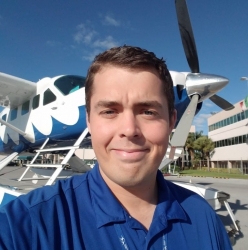 Daniel has always had aviation in his life; from moving to the United States when he was two, to family vacations across the U.S., and back to his native England. He currently resides in South Florida and attends Nova Southeastern University, studying Human Factors in Aviation. Daniel has his Commercial Certificate for both land and sea, and hopes to one day join the major airlines.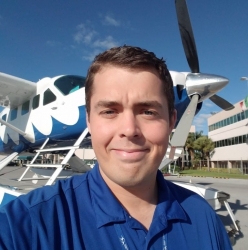 Latest posts by Daniel Morley (see all)