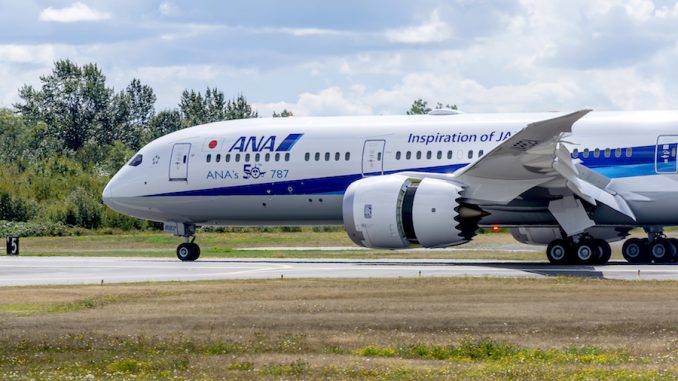 All Nippon Airways (ANA) who is currently the largest operator of the 787 and also Boeing's launch customer for the airframe is struggling with engine troubles, yet again. On Thursday, ANA reported that it was cancelling nine flights because of an engine blade corrosion problem.
The United States' Federal Aviation Administration has been investigating engine problems among other parts on the 787, since the initial production date. This particular issue that is causing troubles for ANA has been determined as not being a safety issue  by the U.S. regulator.
However, there are currently no U.S. airlines operating 787s with Rolls-Royce engines. Over 60% of the 787s in service are outfitted with General Electric engines.
After multiple reports of flights returning to their origin because of warnings from the engine, ANA moved forward with the cancellations and is looking into up to 300 more. Rolls Royce is also looking in to the issues identified by the airline, however will notify other customers if they feel additional action should be taken.
All Nippon Airways primarily uses their 787s for short flights on domestic routes; aviation agencies are looking into this as a cause for the troubles.
Boeing's 787 Dreamliner has experienced its share of issues since production began in 2007. Fortunately for Boeing, the current issues are coming from their vendor Rolls Royce, who will be working with the aircraft manufacturer to resolve the issue.

Shane started as an airline geek on the first day that his mother brought him to work with her as a kid at Dulles Airport. Visiting the ground control tower, driving out on the ramp, and even sitting in the engines, he knew this was something awesome. After learning all the aircraft types and collecting countless model planes, he was addicted. After college, Shane worked at the FAA command center and gained in-depth knowledge of the industry he already loved. For over 5 years, he has worked mainly in Information Technology with the Department of Defense and various military organizations, however continues to grow his passion for aviation and the world of flying. Still today he can't go to the airport without staring out towards the runway or look up to the sounds of something overhead.

Latest posts by Shane Piper (see all)