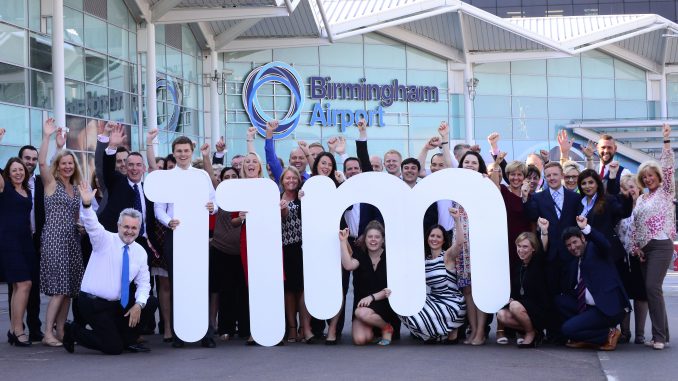 Birmingham Airport has recorded their highest passenger numbers ever in their 77-year history as a gateway airport between Manchester and London. The airport, based in the midlands, has seen 11 million passengers travel through in the last 12 months, meaning further growth is forecasted for many years to come. The airport also recorded its busiest single day to when 44,767 people walked in and out of the airport, a 14.1% increase over the last busiest day recorded in August of last year.
The 11 Millionth Passenger
The milestone was set on Friday, August 19, 2016 as James Sheffield from Edgbaston checked in for a United Airlines flight to San Francisco via United's hub in Newark, NJ.
The airport provided James a meal and a magnum of champagne to celebrate the airport's special occasion. James said that the special occasion for him "was a check-in with a difference" adding that "he wondered what has happening when I arrived at the desk".
Commenting on the record-breaking passenger numbers, Birmingham's CEO Paul Kehoe said: "Reaching 10 million passengers last August was a big milestone in the airport's history but reaching 11 million is an absolute game changer," Kehoe further added that the rising passenger numbers shows that "demand for flying to and from the Midlands is rapidly rising," which is a sign of positivity for the local markets near to Birmingham Airport and also to markets that frequently use the airport.
Birmingham Is Finding Its Niche Market
As an airport with others such as Heathrow and Manchester restricting them in terms of close distances, Birmingham appears to be doing relatively well. Kehoe commented on the airport's success so far saying they have over "440 direct or one-stop flights globally with 50 airlines" as well as being able to handle the Emirates A380 and Boeing B787 aircraft daily.
In terms of passenger numbers, the airport has grown exponentially, with growth to the Middle East rising by 34.1% as well as significant growth in North America by 32.6% as some growth to Europe by 10.8%. The airport also announced a 11.5% increase in low-cost flights from operators such as Ryanair, easyJet and more Scheduled service increased by 6.9%, while charter aircraft flights also rising by 2.4%.
In terms of the airport's success, Birmingham has continued to gain momentum in a competitive landscape. This is a significant moment for the airport as larger airports such as Manchester, Heathrow and Gatwick are fighting to keep and grow major carriers at their airports. Manchester's Asia and Middle East market holds six prestigious airlines, whereas Birmingham currently has three. Heathrow on the other hand is seen as the hub for all of the far-out markets, with Emirates operating six daily A380 flights per day from Heathrow alone with three flights from Pakistan International Airlines. Qatar and Etihad also send in the Airbus A380 into Heathrow with flights from Qantas also.
Birmingham in the Future
Looking into the future, Birmingham does have the potential to carry on growing, regardless of what the heavy hitters, such as Manchester and Heathrow, do over the next decade. Heathrow is still deciding whether it will require a new runway, and Manchester has announced expansion plans which will ultimately increase capacity at the airport.
At the moment, Birmingham Airport is in a comfortable position, even with such restrictions. All the Midlands-based airport has to do now is continue on the success that they have been achieving over the past 12 months, slowly but surely adding more airlines and routes to their growing portfolio.
James is a passionate AvGeek who has been actively spotting for years. James has been an Aviation Enthusiast for 7 years and has a fond likening to Concorde! James hopes to grow in the aviation industry with journalism being his primary focus.
Latest posts by James Field (see all)