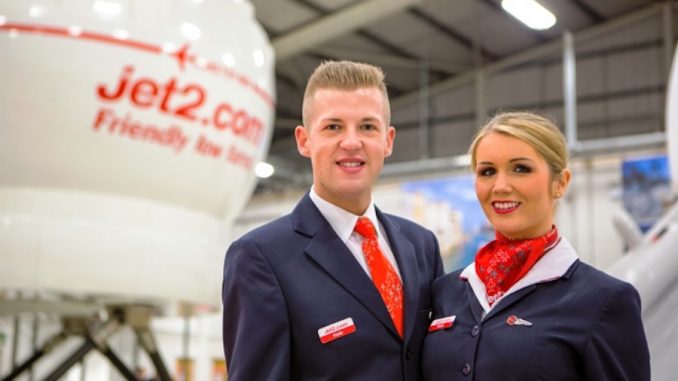 UK based carrier Jet2 has announced a massive recruitment drive for the airline, planning to generate over 1,000 jobs across the United Kingdom. In the breakdown, the airline plans to hire 180 new pilots, 700 cabin crew, and more than 80 engineers. The company will advertise these vacancies through road shows across the country, starting in Leeds in September 2016.
This phase of investment comes after the airline added an 8th UK Base in Birmingham as well as ordering 30 new Boeing B737-800NG (Next Generation) aircraft earlier this year. This expansion in terms of investment is set to boost the UK economy for job creation.
Steve Heapy, the CEO of Jet2.com and Jet2Holidays, commented on this recruitment drive saying, "Our family friendly formula is clearly working with customers and it means that we're one of the UK's fastest growing airlines. We have exciting plans to expand the number of destinations we fly to, as well as the number of UK bases we fly from, and this means that our team is growing all the time too. If you're a Pilot, Engineer or aspiring Cabin Crew, and want to join the team of the UK's favorite airline, then we'd be delighted to see you at one of our roadshows."
For the pilot roles, the airline is looking to recruit Boeing 737 and Boeing 757 Type Rated and Non-Type Rated Captains and First Officers to continue leading the airline's fleet expansion. Jet2 is targeting previously experienced pilots with either commercial or military backgrounds. The airline also requires cabin crew who will continue Jet2's aim of providing top-notch customer service as well as always giving a "truly VIP service,"  according to their press release.
Jet2 is the UK's leading leisure airline with over 60 aircraft in their fleet, operating to 220 routes to popular destinations in the Mediterranean, the Canary Islands, as well as other European cities. The recruitment drive is expected to play a key role as the airline hopes to begin operating to more destinations at reasonable prices as well as continuing their lead over other leisure airlines in the UK such as Thomson, Thomas Cook, and Monarch.
James is a passionate AvGeek who has been actively spotting for years. James has been an Aviation Enthusiast for 7 years and has a fond likening to Concorde! James hopes to grow in the aviation industry with journalism being his primary focus.
Latest posts by James Field (see all)