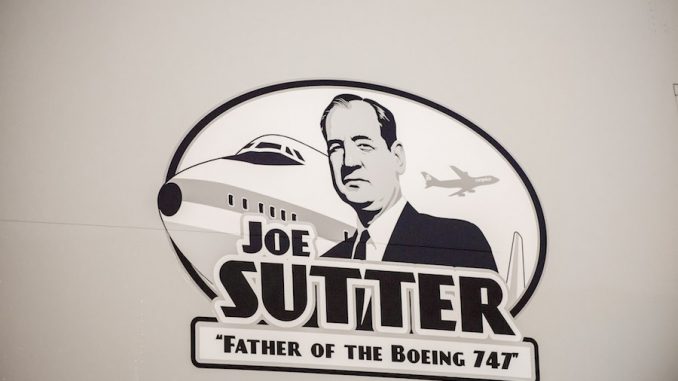 The mastermind behind the Boeing 747, Joe Sutter, passed away on August 30th, 2016. Mr. Sutter left us at the age of 95 due to pneumonia complications.
In a statement released by Boeing, Raymond Conner, Boeing's CEO, points out that "Joe lived an amazing life and was an inspiration to the entire industry."
During his lifetime, Joe Sutter served as an officer in the U.S. Navy during World War II. After the war, Sutter used his engineering degree from the University of Washington to land him a job at The Boeing Company. There he worked on the designs of many aircraft including the Dash 80, 707, 737, and of course, the iconic Queen 747.
In the 1960s, Joe Sutter became know as the "Father of the 747" for his incredible work on what would be a large step in the innovation and technology of the aerospace world. The Boeing 747 created cheaper, worldwide, air travel and had become the largest airplane in the world. From conception to roll out, the "Queen of the Skies" took only 29 months, a staggering achievement by Mr. Sutter and Boeing as a whole. His team of Boeing employees would become known as "The Incredibles" for their work on the new jumbo jet.
After retirement, Joe acted as a consultant to the Commercial Airplanes Senior Advisory Group for Boeing and continued to stay active in the company.
Sutter wrote an autobiography along side aviation author Jay Spenser. The book, 747: Creating the World's First Jumbo Jet and Other Adventures from a Life in Aviation, which was released in 2006, tells tales from Sutter's childhood and life at Boeing. They also include great details of the design and manufacturing process of the 747 among other remarkable stories.
Joe Sutter may be gone but his legacy as being "one of the giants of aerospace" along with the 747 still live on.
Rest in Peace Mr. Sutter, thank you for your naval service and for your imprint in aviation. You will be missed.
Matthew Garcia became interested in aviation at the age of 12 when he installed Microsoft Flight Simulator X on his computer. He was instantly "bitten by the bug" and has been in love with aviation ever since. Matthew took his first introductory flight in 2013 and began normal flight training in February of 2015. Over the years, Matthew's love and knowledge for aviation has grown tremendously, mainly due to FSX. Garcia flies highly advanced aircraft in a professional manner on a highly complex virtual air traffic network simulating real world flying. In 2016 Matthew achieved his private pilot certificate from the FAA. Now he studies journalism at the University of Nebraska at Omaha.
Latest posts by Matthew Garcia (see all)