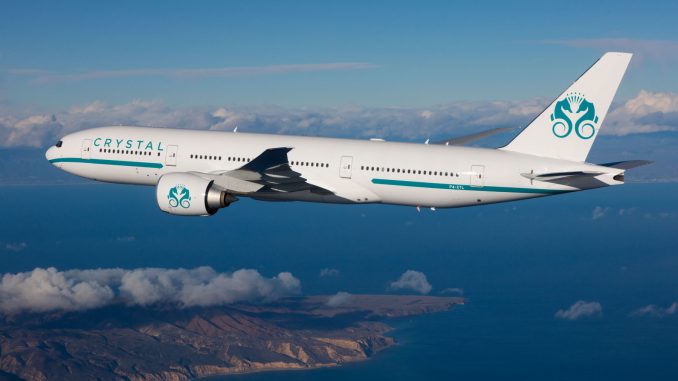 Have you ever wanted to go on a cruise but don't like the idea of traveling on a giant boat in the middle of the ocean? Or maybe you like the idea of a cruise but you're such an aviation geek that you would rather fly? Well, Crystal Cruises has a solution for you.
Founded in 1990, Crystal Cruises is a luxury cruise company set to fit your experience the way you want it. The company uses its fleet of ultra-luxurious cruise liners, customizable destinations, and fine dining as main attraction points for their cruises. However, Crystal Cruises has taken it up a notch with a new way to travel in style.
Crystal Cruises is taking the next step in luxury travel and getaways. The company has announced a new Boeing 777-200LR as part of their newest private experience: Crystal AirCruises. Crystal Cruises plans to use this new private jet in the same sense as a cruise ship, but in the sky.
The Boeing Business Jet (BBJ) 777 will hold only 84 passengers and will travel on 14, 21, and 28 day trips. According to the press release, the aircraft is currently being fitted with reclining Crystal Exclusive Class seats, open social areas, large TVs, and its own private butler and concierge service with Michelin Star inspired cuisine.
Along with the luxurious personal spaces, guest will have access to iPads, Bose headphones, free wifi across the globe, private televisions with on-demand shows and movies along with a music library, a live air traffic control listening channel, and finally, USB and power outlets for each seat.
Crystal's CEO Edie Rodriguez said, "Crystal AirCruises is not just a thrilling new venture for Crystal, but a groundbreaking development in the luxury travel industry.Even the savviest travelers and guests who have sailed on our award-winning ocean cruises many times will relish brand new opportunities to explore places impossible to reach by water, all with Crystal's signature personalized service and the highest standardp of luxury at every point of travel."
The Boeing 777 is expected to enter service in the fall of 2017.
Matthew Garcia became interested in aviation at the age of 12 when he installed Microsoft Flight Simulator X on his computer. He was instantly "bitten by the bug" and has been in love with aviation ever since. Matthew took his first introductory flight in 2013 and began normal flight training in February of 2015. Over the years, Matthew's love and knowledge for aviation has grown tremendously, mainly due to FSX. Garcia flies highly advanced aircraft in a professional manner on a highly complex virtual air traffic network simulating real world flying. In 2016 Matthew achieved his private pilot certificate from the FAA. Now he studies journalism at the University of Nebraska at Omaha.
Latest posts by Matthew Garcia (see all)