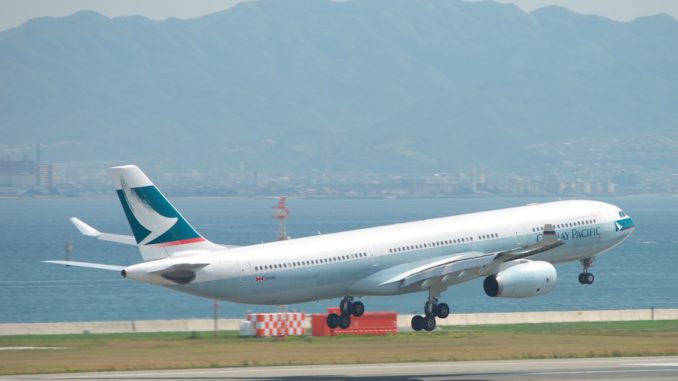 While I was sad to be leaving one of my new favorite cities, Hong Kong, I was extremely excited to try out Cathay Pacific's recently renovated lounge, [italic]The Pier[/italic]. While the final touches were finished six months ago, the lounge has already won an award for being the best first class lounge in the world, and has received rave reviews from travelers and bloggers on numerous websites. In addition, the business class portion has plenty of unique features to offer, making it a perfect opportunity to review two portions of a recently renovated lounge.
The Pier – First
To start, we headed to the Pier's first class lounge area. After having seen all of the work done to enhance the airline's refreshed branding, we were extremely impressed upon taking the escalator downstairs finding not just a room with some cookies, but a full-blown experience with a different concept at every turn. The lounge renovation was designed by Studioilse, a London-based design studio led by Ilse Crawford, and it certainly showed. Beautiful wood furniture, plants, and intricate lighting displays greeted us as we walked in, and we couldn't help but to head straight to the restaurant.
The lounge menu is entirely a-la-carte, which featured plenty to choose from for breakfast. What most surprised me was the attention to detail in the menu line-up. You could tell a lot of thought went into the creation of the menu at this lounge, as it marked a nice balance between sophisticated yet filling for all types of travelers. I ordered the ham and cheese omelet, which hit the spot perfectly. It also was served with some pastries, a fruit cup, small cookies, and numerous fresh juices.
The staff were extremely friendly, and the exclusivity of the lounge could be felt almost immediately. The lounge itself is restricted to only first class passengers and [italic]oneworld[/italic] emerald travelers. Since the airline has a relatively small first class section on board many of its aircraft, it left plenty of space for travelers to enjoy their meal and relaxation without disruption.
After finishing our meal, we were escorted over to the massage area. The airline offers free, ten minute massages to all travelers, which is a nice touch for those on a long layover. Unfortunately, by the time we checked in, all of the slots were full and we were unable to take part in the free massage. Travelers note; make sure you sign up for this once you enter the lounge.
After the shower, we proceeded to the Pantry. The area is actually outside of the restaurant, and includes many pastries, coffee, beer, soda, and juices. A very nice touch for the space in my opinion, as I was able to stop and grab a few pastries as a last minute snack before heading to our next lounge. Speaking with the bartender that day, he was extremely proud of how the lounge has transformed since he started working at the airline. I could certainly see why, as modern simplicity and business features seem to meet at a happy center in this oasis.
The Pier – Business 
After spending some time learning more about the first class lounge, it was time to check out the business class side. Rather than the two lounges being next to each other, they are separated and have separate entrances. Both, however, are accessed by taking an escalator down from the main departure area.
While the first class portion of the lounge aims for exclusivity and tranquility, the business class portion strives for productivity balanced with creativity. Upon going down the escalator we were given a short lounge tour, starting with the buffet. Right at the entrance to the dining area was a coffee area, where numerous staff members provided custom coffee beverages on demand.
Without going too much further into the review, I want to harp on the importance of the size of this lounge. As we have seen a shift in the airline industry away from first class into providing more business class seats, the airline has had to provide a space that can be accessed by tons of passengers departing from Hong Kong. Cathay seems to have been able to create a large-sized lounge that doesn't feel large, yet somehow never felt overly crowded. This overcrowded feeling seems to be averted by the number of rooms, unique themes, and also spacing of the chairs. From the experience of traveling in the United States, many of us have gotten used to chairs stacked on top of other chairs for the sake of fitting as many passengers in as possible. Meanwhile, Cathay seems to have taken a different approach, focusing on spreading things out and encouraging customers to do the same.
Rather than feature an a la carte menu for the dining room, the airline has opted for a large-scale buffet that caters to both Western and Cantonese travelers. This meant a mix of dumplings and fried rice, but also roasted potatoes and bacon. There also was a separate noodle bar that seemed to be the popular spot to be visiting during our time. With a mix of normal dining room seating along with couches and lounge chairs, travelers were sprawled all across the lounge while eating.
Moving further back inside the lounge, we had found one of the most unique offerings of the business class lounge; the tea bar. With over ten different teas to choose from, customers have the option to select their choice of tea which is served in an elegant tea pot. As a tea-lover, I was certainly impressed. The variety was an interesting mix, and I was able to select a tea based on a staff member's recommendation.
After walking through what felt like a never-ending set of rooms, we arrived at the Relaxation Room, an area devoted to letting passengers relax before their upcoming flight. While the area's theme was well served, it didn't seem to be used by any of the passengers traveling that morning. Personally this area didn't serve much use for me, but I am sure it can come in handy for the flights later in the day. While we would have loved to stay longer, it was time to trek back to our gate for our departure back home.
Bottom Line
In the midst of all of the craziness that exists when traveling, it was extremely rewarding to have had the opportunity to visit [italic]The Pier[/italic]. Whether it was the overall design and layout, exquisite food or the various other offerings, both lounges seemed to excel in all areas. While my one regret was not having the opportunity to try the massage area, it goes without saying that I will be back to visit this lounge as soon as I have the opportunity to be back in Hong Kong. For now, this First Class portion of the airport lounge ranks as my favorite I've visited, and will certainly be in my top-list for the years to come.
Editor's Note: All travel was paid solely by myself, with no sponsorship from the airline. While access to the Pier Business Class was included with my ticket, I was a guest of the airline for the visit to the Pier First Class portion. All opinions are my own. A special thank you to Jack, the lounge manager, for guiding us through the lounge and making it an extra special experience.

Joe joined AirlineGeeks in 2014, and in his current role as Editor-in-Chief manages a growing team of writers both in North America and Europe. He enjoys spending the bulk of his time researching, learning and analyzing the latest trends in the airline industry, all while mentoring new members of the AirlineGeeks team who seek to do the same. Areas of research include revenue management, codeshare and alliance partnerships and airline financial results.

Latest posts by Joe Pesek (see all)