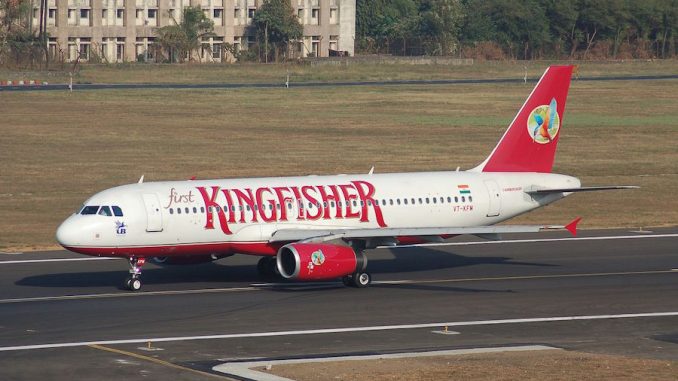 With the Indian economy starting to see popularity and the need for flights increasing, United Breweries Group saw this as a perfect time to expand and start an airline of their own. The beer group took hold of a handful of Airbus A320 aircraft and started flights between Mumbai, Bangalore, and Delhi. In order to keep similar branding, the airline was branded Kingfisher Airlines after United Breweries product Kingfisher beer.
The carrier found early successes, expanding at Bangalore, Mumbai, and Delhi within a year. By 2007, the airline had expanded to include 20 Airbus A320s across 26 destinations operating from hubs in Delhi and Mumbai with a focus city in Bangalore. However, in order to expand the carrier has consistently worked its way into the red profits, as they were always buying more ramp space and jets to meet demand. This problem started to become predominantly visible to the Indian public with airports and GE Commercial Aviation Services making statement threatening to repossess and grounded jets due to missed payments.
Despite the threats, the Indian carrier continued to look for ways to expand. In 2007 the carrier purchased fellow carrier Air Deccan, rebranding them into a low cost alternative called Kingfisher Red. The ATR 72 appeared in the Kingfisher fleet, allowing the airline to fly to smaller domestic routes while the Airbus A320s took the longer flights. The following year, the carrier announced the start of international service to London-Heathrow, Dubai, Bangkok, Singapore, and Hong Kong utilizing Airbus A330s aircraft. Codeshare agreements with American Airlines, Asiana Airlines, and Philippine Airlines followed to allow for passengers to reach further destinations. Upon announcing international service, the carrier also started to look into joining the oneworld alliance to strengthen their international presence. By the end of the year, Kingfisher had also started trading on the Bombay Stock Exchange.
Expansion wound down as the airline had almost stopped the yearly bleeding of cash, but 2009 saw Kingfisher's net losses jump by over 800%. 2010's profits mirrored those of 2009 as they started to look for ways to restructure the desperate airline. Kingfisher negotiated with their lenders to lower their interest rates while the carrier was restructuring. As a result of the restructuring, Kingfisher removed its bid to join oneworld as it had planned to enter the alliance by the end of the year. The carrier continued to cut costs by removing older Airbus A320s and terminating Kingfisher Red flights.
While the ability to slow the bleeding of cash helped Kingfisher, the airline found itself behind in a rapidly growing market. Jet Airways and Air India had established themselves as the top two airlines and with Kingfisher in bankruptcy that allowed newer low cost carriers such as IndiGo, GoAir, and SpiceJet to leapfrog the United Breweries owned company.
Kingfisher slowly worked its way back into bankruptcy over the course of 2011 and by early 2012 the carrier was grounding flights due to work disturbances of unpaid employees and the lack of spare aircraft. By the end of February, the airline had only 28 aircraft operating 150 of the 400 daily flights it had previously scheduled. Smaller cities had routes cut completely while larger routes out of Delhi, Mumbai, and Bangalore were reduced to once or twice a day. By Fall 2012, employees started to protest and strike causing further problems to the Kingfisher network as the company had deemed these strikes 'illegal' but still claimed to show support for their staff.
After still continuing to see these strikes hurt the desperate airline, the Directorate General of Civil Aviation (DGCA) for India called for all Kingfisher aircraft to be grounded from October 20th onward since the carrier failed to show the DGCA an adequate reason for trusting them to get out of their declining financial information.
The DGCA said they would return their ability to fly once they proved they could fly and make payment. No such plan was shown and the IATA revoked the carrier's operating certificate in February 2013, ending Kingfisher. Kingfisher's chairman Vijay Mallya has been accused of stealing money from the airline prior to its grounding in 2012, however, Mr. Mallya claims that the airline went bankrupt due to a fierce taxation from the Indian government and high fuel charges. He goes on to claim that Kingfisher was a "nightmare" due to the fact that four years after the airline was grounded, United Breweries is still paying off debts from the carrier.

Ian has been an avgeek since 2004 when he started spotting US Airways Express planes at Johnstown Airport in Johnstown, Pennsylvania. He now lives in Wichita and enjoys spotting planes in Kansas City and Wichita as well as those flying at high altitudes over his home. He is a pilot with more than 40 hours of experience behind a Cessna 172, Diamond DA-20, and Piper PA-28. He flies Southwest Airlines on most of his domestic flights and Icelandair when flying to Europe. Ian's route map spans from Iceland and Alaska in the north to St. Maarten in the south. He is a student at Wichita State University, where he will study aerospace and mechanical engineering.

Latest posts by Ian McMurtry (see all)