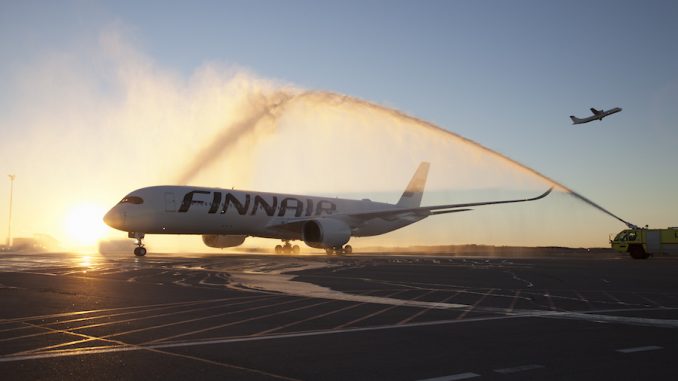 Finnair continues to grow its Asian traffic, and has today announced it will add capacity and frequencies to both its Tokyo and Hong Kong routes with the Airbus A350XWB for the Summer 2017 season. This is following news that the airline reporting a 6% increase in passenger traffic overall.
Finnair plans to increase their current flight schedule between Helsinki and Tokyo with four additional weekly flights to Narita International Airport. At the moment, Finnair operates daily  service to Narita with the A330. The additional flights, which will be flown with their new A350s, which will be operated between June 5 and October 27. Finnair also flies non-stop to Osaka, Nagoya, and Fukuoka during the summer 2017 season, with a total of 35 weekly flights to Japan.
Finnair also plans to add the latest Airbus aircraft to their Hong Kong route, with three additional weekly flights between June 6 and October 28. Currently Finnair flies to Hong Kong daily, departing Helsinki and Hong Kong around midnight. With the new frequencies, the carrier will operate 10 weekly flights and offer customers the added option of an afternoon flight from Helsinki and a morning flight from Hong Kong. The airline's flights to Hong Kong are fully operated with the A350XWB.
"With increased frequencies for Tokyo and Hong Kong on the A350, we are now tapping into the growth of Asia-Europe traffic and increasing our presence in cities that have been popular with our customers in recent years," said Juha Järvinen, Chief Commercial Officer at Finnair. He also commented: "It's been a year since we received our very first Airbus A350, and with seven aircraft operating in our network, we look forward to having even more customers flying on this great aircraft."
In addition to Hong Kong, Finnair will also maintain and continue its seasonal route to the nearby Chinese city of Guangzhou, with four weekly frequencies operated by an A330 aircraft. The airline's route to Guangzhou opened in 2016 and was Finnair's fifth destination in China. Next year, the carrier is expected to receive four A350XWB deliveries. By the end of 2023, Finnair will have one of the most modern long-haul fleets in the industry with 19 new aircraft in its fleet. The airline has launched its growth strategy in order to meet passenger demand, as its Asian operations alone have grown significantly in numbers by 12.4%. The American market has also grown by 24.3%, showing significant potential globally for the years to come.
James is a passionate AvGeek who has been actively spotting for years. James has been an Aviation Enthusiast for 7 years and has a fond likening to Concorde! James hopes to grow in the aviation industry with journalism being his primary focus.
Latest posts by James Field (see all)