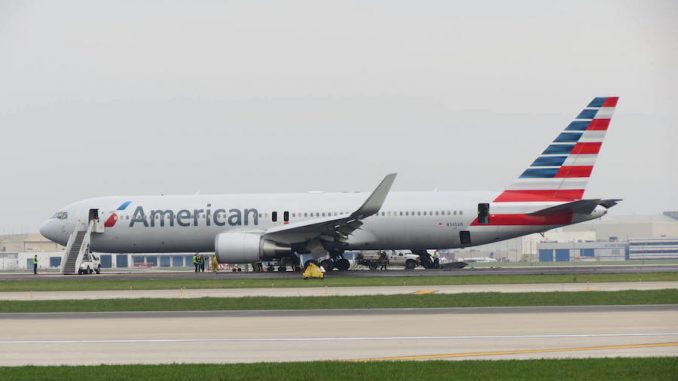 "This is the captain: Evacuate. Evacuate. Evacuate."
These words are not something you expect to hear moments before lifting off the ground on a routine commerical flight. You start to smell smoke, the airplane comes grinding to a halt, and suddenly your routine flight becomes anything but. Scared and confused, you're not sure what to do. Everyone around you begins to panic as they realize that a part of the airplane is now on fire.
This is exactly what happened on October 28, when American Airlines flight 383 (N345AN) was rocketing down runway 28R at Chicago's O'hare international Airport destined for Miami with 170 passengers and nine crew onboard.
I can't imagine what the passengers were feeling as that Boeing 767-300's GE CF6-80C2B6 engine burst into flames, after what the NTSB is calling an "un-contained engine failure." The fear must have been palpable.
When the news broke, I was with my flight attendant peers getting ready to work a trip out of Dallas-Fort Worth. Videos from the scene quickly flooded social media and national news outlets. Within a few minutes, reports of no life-threatening injuries began to surface. I felt proud after hearing that because I knew exactly how the 161 passengers managed to walk away as it was being engulfed in thick, black smoke and flames.
It's common knowledge that the flight crew are well versed in day to day policy and procedures, routine service standards, and operational normality, but what you don't always get to see (and hopefully never have to) is what happens when the flight doesn't go according to plan. That's when the extensive and instinctive training of the cabin crew kicks in.
There was a short video posted online just an hour after the aircraft caught fire from inside the cabin. People yelling, quite literally fearing for their lives, as they struggled to get off of the aircraft. In the background you can hear faint, but authoritative voices collectively yelling, "Jump and slide, jump and slide, leave everything!"
The flight attendants yelling those words didn't have much time to think about what the best plan of action was as that airplane caught fire. They had to know what to do without thinking about it. It had to be instinctive. Months of initial training – followed up by year after year of recurrent training keeps the cabin crew ready for events like this. We memorize every phrase and every action, down to our hand placement on the door handles. We are taught where to stand to protect ourselves during an evacuation, and how to safely control the flow of passengers. During takeoff and landing, we're taught to sit in our assigned jump seats, no matter how routine it seems, and go through our evacuation commands in our head so we are always ready for the unexpected. We have procedures for just about anything you can think of and it is all muscle memory that we hope will never end up being used outside of the cabin simulators.
Simply put, the crew of American 383 used this instinctive training to save the lives of everyone onboard. It was absolutely pivotal for them to remain calm and direct an orderly evacuation no matter how dangerous the situation became. The crew jumped into action without hesitation. These actions, although the result of intensive and repetitive training, should never be down-played or diminished because they, without a doubt, ensured everyone on that aircraft another chance to go home and see their loved ones.
Although the crew (pilots included) will most likely say they were just "doing their job," it is important for all of us to recognize the incredible and heroic actions that they performed.
A reminder to remember the main reason they are there on your next flight: for your safety. Next time you step onto an airplane, be sure to thank them (and pay attention to that safety video).
Tyler Herrick is a flight attendant for a major US carrier
Our guest authors are contributors to AirlineGeeks.com who like to write, but don't necessarily have the time to be a full-time writer. Want to be a guest writer? Contact
[email protected]
for more information.
Want to join the team full time? Look for more information at the very bottom of the website.
Latest posts by Guest Author (see all)