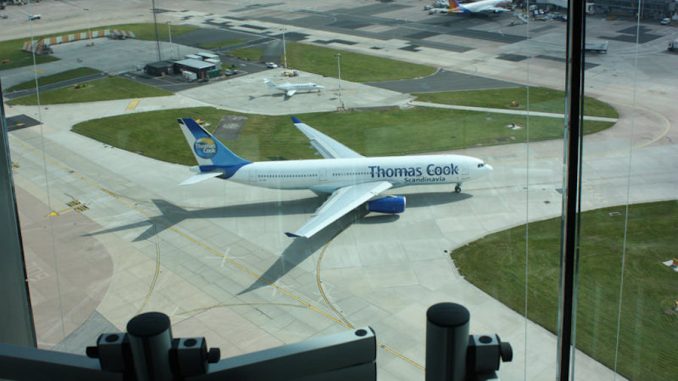 Manchester Airport has reached record numbers after hitting their first milestone of 25 million passengers for the first time since opening in 1938. This has occurred due to the 9.3% growth the airport has recorded year after year as well as the addition of new long-haul services and increased frequency and capacity on particular routes across the airport's network. Manchester is the UK's third largest airport and serves a catchment area as far as North Wales in the West and Humberside in the East.
The 25 millionth passenger was Chris Stenson, who was with partner Lucy Metcalf, greeted by airport representatives after checking in at the Thomas Cook check-in desk for their flight to New York. He was enthused about this accolade and mentioned that he was "absolutely delighted to be Manchester Airport's 25 millionth passenger" and that it was an "incredible start to my flight to New York with Thomas Cook Airlines." As a mention of thanks to Mr Stenson, Thomas Cook gave him a pair of return flights to San Francisco when the route is launched in May 2017. 
Manchester Airport's Deputy CEO, Collette Roche commented on this milestone for the airport saying, "We are really pleased to have hit this significant milestone and look forward to continuing to grow our passenger numbers. At a time when capacity in the South is constrained, we are adding more passengers and routes than ever before. In the last year alone we have launched flights to Houston, Beijing, Boston, to name a few, all of which can only be found at Manchester outside of London. This underpins the role we play in the North as the global entry point of the Northern Powerhouse and as economic provider and job creator. We have more than 22 million people living within two hours of Manchester Airport and our continued addition of new routes and increased frequencies is seeing both business and leisure customers choose Manchester, rather than other airports."
Christoph Debus, the Chief Airlines Officer for Thomas Cook Group added, "We are delighted having supported Manchester Airport reaching the 25m passenger mark with our double-digit growth in Manchester this year. These lucky customers are just two out of more than one million long-haul passengers who will fly with us in the next 12 months. With our 17 long haul destinations from Manchester, we are the largest long-haul carrier in the North, offering excellent and award winning service at the lowest fares."
Direct flights to Hong Kong, Miami, Jeddah, Aruba, Boston, Los Angeles, Houston, and Beijing are new destinations that have been announced over the past few years for Machester and have been a key player in growing the airport's ties with different countries across the world. Continuing on with this rapid expansion, the airport is to host new direct services to Phuket, Mauritius, Goa, Tobago, Muscat, San Francisco, and Cayo Coco.
James is a passionate AvGeek who has been actively spotting for years. James has been an Aviation Enthusiast for 7 years and has a fond likening to Concorde! James hopes to grow in the aviation industry with journalism being his primary focus.
Latest posts by James Field (see all)