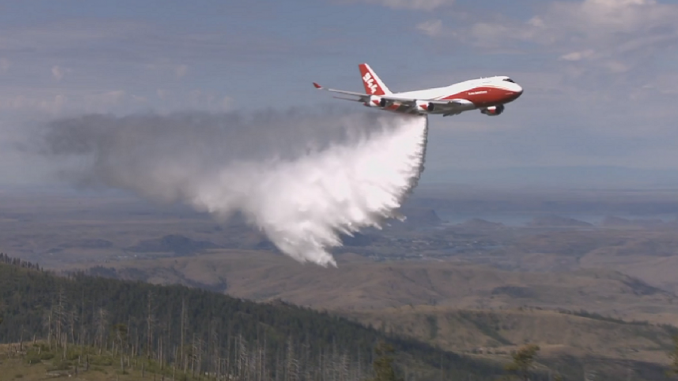 Spirit of John Muir, the supertanker Boeing 747-400, has safely landed in Tel Aviv; its goal is to help with firefighting efforts after an urgent call from the country for assistance. Even with aircraft from neighboring countries gradually suppressing the flames, the fires continue to rage relentlessly.
Flames swept across Haifa, Israel's third-largest city, forcing tens of thousands from their homes. Even though the fire inside the city is now under control, a dozen other fires in the country are still burning.
The airplane departed on Thanksgiving evening from Colorado Springs and landed in Tel Aviv after a 12 hour non-stop flight. The airplane is the largest firefighting aircraft in the world, capable of dumping nearly 20.000 gallons of water, foam or retardant for up to 4,000 miles. Not only can it be used to fight wildfires, it can also be sent out to aid in emergencies such as fires on drill rigs, for example.
The 747-400 received final approval from the FAA this September. Unfortunately, in order to fight fires in the United States, it has to be contracted by the U.S. Forest Service. Currently, the Forest Service has contracts with other companies.
Global SuperTanker CEO Jim Wheeler expressed his feelings about the situation in the U.S. saying,"It's like watching somebody's house burn and knowing that you can't go in and rescue them." Fortunately, after an international call for help from Israel, the airplane gets to do its job after all.
The company is also getting ready for the Australian fire season, where it is hoping to take the aircraft down to aid those in need.  In June, the crew underwent some extensive mountain training flights to help prepare them for difficult terrain.
AirlineGeeks.com began in February, 2013 as a one-man (er… teenager, rather) show. Since then, we've grown to have 20 active team members, and yes, we're still growing. Some of us are looking to work in the aviation industry as professionals when we grow older. Some of us are still trying to decide what we want to do. That's okay though, because we're all here for the same reason: we love the airlines. We're the youngest team of airline industry journalists out there.
Latest posts by AirlineGeeks.com Staff (see all)