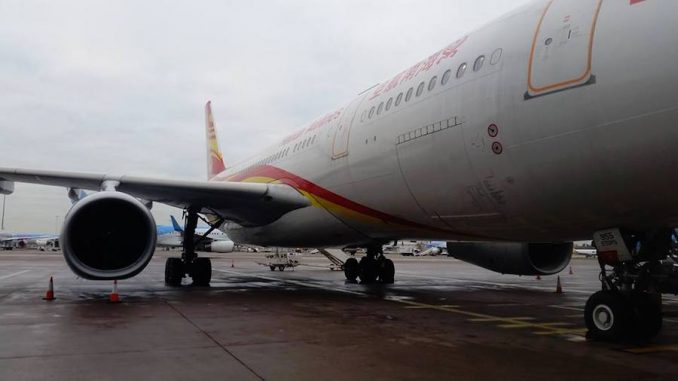 Hainan Airlines made their presence in Manchester back in June 2016 with four times per week services to Beijing using their Airbus A330-300 aircraft. Six months later, the airline and Manchester Airport invited us back to discover their product on a more in-depth basis. On this occasion, the airline sent in their Airbus A330-200 as they required more cargo space. Manchester is the first UK scheduled route for the carrier.
Their Airbus A330-300 aircraft seats 262 in economy with a 2-4-2 configuration followed by 32 seats in business class in a 1-2-1 configuration. On their Airbus A330-200 aircraft, there are 178 seats in economy featuring a 2-4-2 configuration followed by 36 in business Class using a 2-2-2 configuration.
For flyers who prefer economy, the cabin itself is something that is very comfortable and spacious. It is a product in which Hainan can truly offer relaxation on a 9-10 hour flight. Economy passengers have a personal LED touchscreen entertainment system with movies, audio, and games.
However, the main focus of this event was the airline's business class product. This specific product has a 5-star rating from SkyTrax and it is very clear why the product has been labeled with such a fantastic reputation. First of all, business class customers can enjoy a focus of sound with noise-cancelling Bose Headphones to focus, relax and unwind during the 9-10 hour flight to Beijing. Pajamas and other items of comfort are also offered for business class passengers.
In terms of amenities offered in business, one will receive a comfortable bag which contains items such as toothpaste, a toothbrush, hairbrush, ear plugs, socks, and a sleeping mask. The main attraction of the amenities kit is the Bvlgari products. In the bag, you also receive lip balm, Eau Perfumée, and body lotion.
Other features of the business class cabin are the lie-flat, adjustable seats and the touch screen and remote control based inflight entertainment. The seats offer a total of 74 inches in seat pitch.
The airline's entertainment system offers 120 movies, including 60 Hollywood blockbusters, over 100 British and American TV show documentaries, 750 music albums, and 10 games. The system is regularly updated and "diversified" so that all content onboard is on demand and up-to-date. Hainan's IFE offers multicultural diversity by implementing five operational languages onto their system.
Something that also makes Hainan Airlines stand out from the crowd is their beverages. The Red-Yellow drink, which is served during the Winter season, represents Chinese tradition of sweetness and warmth.
Another key aspect that makes Hainan's business class product unique is the food that is offered. As a five-star rated airline, they had to produce a level of consistency in food quality. When speaking with the chef who was in charge of developing the meals, he said that he wanted the meals to not be "an imitation of Chinese food" and that they should require "real authenticity between Manchester and Beijing" to ensure that quality is not degraded. To establish this, they have regular inspections which in turn raises the profile of their catering standards. The chef wanted to make sure that all Chinese and British flyers enjoyed the food presented to them.
The general menu offered on business class flights are two hot meals and one cold meal, with meals varying depending on the routing. Also on offer is an on-request service where one can be given your meal at a time that suits you during the flight. Before landing, there is normally a hot breakfast served as well.
The meal that we got to sample was an "Afternoon Tea" equivalent featuring scones, sandwiches, chocolate, strawberries, coffee, and much more. The food was outstanding and tasty, offering a fantastic variety of food to choose from.
All-in-all, the products offered by Hainan Airlines definitely have the hallmarks and prerequisites of being a five-star carrier. Their business class cabin will definitely give global competitors a run for their money. Such hallmarks have generated a success at Manchester alone. Having a catchment area to 22 million people, with a reasonable percentage of that being Chinese residents, Hainan has witnessed quick success in the first six months of operation within the market. For instance, from the start of operations in June 2016 up to October 2016, Hainan has carried 38,000 passengers between Manchester and Beijing with an average load factor of 92%.
The airline's Deputy General Manager of the UK Ryan Zhang mentioned to the press that extra services from Manchester could occur in the future if the trend continues. He mentioned that the airline is potentially open to adding routes to Shanghai and Guangzhou. However, Hainan may face competition over the next few years as Air China might make a move on the slots that have acquired from Manchester Airports Group. Hainan, however, could be eyeing Heathrow in the future following British Airways' withdrawal from Chengdu.
James is a passionate AvGeek who has been actively spotting for years. James has been an Aviation Enthusiast for 7 years and has a fond likening to Concorde! James hopes to grow in the aviation industry with journalism being his primary focus.
Latest posts by James Field (see all)