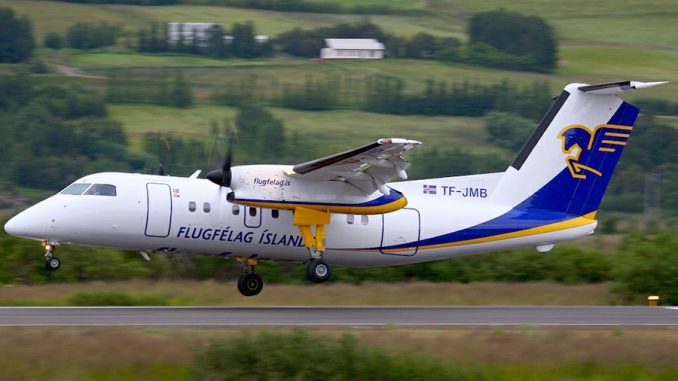 Reykjavik-based Icelandair has announced plans to operate flights from Reykjavik to Belfast City on a three times per week basis starting in June 2017. The airline will use Air Iceland's Bombardier Dash 8 Q400 on Tuesdays, Saturdays, and Sundays. Air Iceland has codesharing agreements with Icelandair that will offer connectivity between the Northern Irish destination and to the rest of Icelandair's North American and European portfolio.
Belfast will be Icelandair's 44th scheduled destination within their portfolio. The service will operate on a year-round basis. With a population of 600,000 people, Air Iceland and Icelandair will be able to take advantage of that catchment area in order to fill up their 72 seat aircraft on the three times per week basis.
With Belfast being their 27th destination in Europe, the partnership with Air Iceland will enable Icelandair to start thriving in more regional markets. Founded in 1997, Air Iceland has five aircraft in their fleet. The carrier started out on flights between Iceland, Greenland, and the Faroe Islands. After their success in those markets, their first expansion outside of that area was to Aberdeen, offering four flights per week. Air Iceland's Dash 8 Q400s offer two cabins in a 72 seat configuration with economy and Economy Comfort.
Icelandair CEO Birki Holm Guõnason commented on this route addition: "Belfast is a vibrant fast growing city with great business and leisure opportunities and we are happy to be able to offer our customers this exciting addition to our network. Like our code-share operation with Air Iceland to Aberdeen, Scotland, our Belfast route will be flown in cooperation with our sister company, utilizing their smaller aircraft like the Q400 to create new markets and opportunities."
James is a passionate AvGeek who has been actively spotting for years. James has been an Aviation Enthusiast for 7 years and has a fond likening to Concorde! James hopes to grow in the aviation industry with journalism being his primary focus.
Latest posts by James Field (see all)