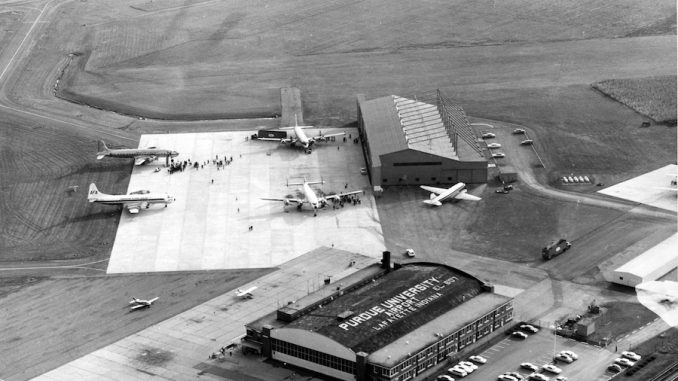 With Purdue University consistently looking for ways to get ahead in the aviation world, the university looked to the skies as its next resource. The West Lafayette-based university had already made records in the 1930s when it became the first academic institution to own an airport, with the creation of Purdue University Airport on November 1, 1930. The airport had gained quite a popularity with Amelia Earhart storing her Lockheed Model 1 at the airport when she was a faculty member at Purdue as well as being part of the military's pilot training grounds during World War II.
Purdue had made pushes through the 1940s to secure an airline, going before the US Senate to provide information that a US university could help make pushes and advancements in aviation with their own airlines, just like other institutions had done with the agricultural side of the US economy through the years. Despite these attempts, Purdue stayed grounded until the 1950s. In 1953, Purdue purchased nine Douglas DC-3s with the idea of leasing them out to airlines while still giving students valuable maintenance experience as well as a potential to get into the airline of which the aircraft are leased to. However, the idea of a university owning and leasing aircraft was not positively viewed and Purdue was forced to remove the aircraft before they even landed in West Lafayette.
However, after years of trying, Purdue was granted the ability to create an airline. The university placed an order for four Douglas DC-9-30s with the first one due for delivery in early 1969. In February 1969, Purdue Airlines's first aircraft rolled out of the Douglas Aircraft hangars to an audience of 50 Purdue graduates who were employed at Douglas. The aircraft flew from the assembly line at Long Beach to West Lafayette to question and answer segment and display to the people of northwest Indiana. The airline was painted in blue and white and given a "PA" crossover on the tail, which made the airline different from the university's block "P" logo with black and gold colors which was commonly used by the university's athletic department, the Purdue Boilermakers.
Purdue Airlines was vital in the university's eyes for training pilots, students who had met the correct amount of training were made co-pilots on flights and gained experience in the cockpit, allowing for an easier transition into being a full-time pilot once graduated. The airline took hold of three Douglas DC-9s in 1969 with a fourth due in the mid-1970s. Purdue Airlines first consumer was multi-millionaire Hugh Hefner, who had turned over the rights of his Playboy jet to Purdue Airlines as long as the carrier was ready to pick him up when he called from Chicago. Purdue's other charter work consisted of hauling the Purdue Boilermaker football team and the Chicago White Sox baseball team.
Within two years Purdue had run into issues with Purdue Airlines, West Lafayette wasn't the charter hub that the university had hoped for and paying to maintain and fly a fleet of four Douglas DC-9s was expensive on the school's budget. That, coupled with the fact that students missed valuable class time to work for the airline left Purdue with an easy decision to close down the airline. After returning Hugh Hefner's DC-9 to him, the remaining three Douglas DC-9s were sold to Inex-Adria Airways and Hughes Airwest. Upon delivering the last Douglas DC-9 to Hughes Airwest on April 17, 1971, Purdue Airlines and Purdue University's experiment of owning an airline officially came to an end.

Ian has been an avgeek since 2004 when he started spotting US Airways Express planes at Johnstown Airport in Johnstown, Pennsylvania. He now lives in Wichita and enjoys spotting planes in Kansas City and Wichita as well as those flying at high altitudes over his home. He is a pilot with more than 40 hours of experience behind a Cessna 172, Diamond DA-20, and Piper PA-28. He flies Southwest Airlines on most of his domestic flights and Icelandair when flying to Europe. Ian's route map spans from Iceland and Alaska in the north to St. Maarten in the south. He is a student at Wichita State University, where he will study aerospace and mechanical engineering.

Latest posts by Ian McMurtry (see all)