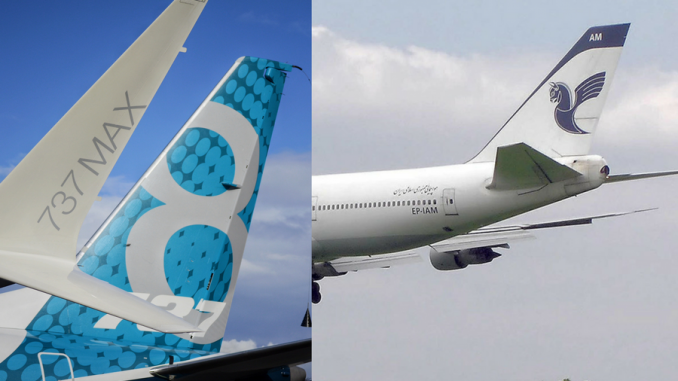 Boeing today in a press release announced an agreement with Iran Air for 80 aircraft, including 50 737 MAX 8s, 15 777-300ERs, and 15 777-9s. The agreement does comply with a US government license that was issued in September, and will be the largest deal with the country since President Obama lifted sanctions early in the year.
Iranian Transport Minister Abbas Akhoundi stated, "The deal has a clear message for the world: we support peace and security as well as the growth of Iran based on a win-win policy."
The deal only further supports Boeing's design of the 737 MAX, which will incorporate new engines from CFM International and increased cost savings when it launches in 2017. While the Boeing 777-9 isn't expected to begin commercial service until 2020, it will allow Iran Air to build an even larger international network when it is launched. This aircraft is also expected to be a favorite upon airlines, as it has been designed with composite materials and other technologies similar to that of the Boeing 787 Dreamliner.
Iran Air has faced a rocky period throughout the last decade, driven largely by safety concerns and continued sanctions from the United States and Europe. In 2010, European Union officials announced an outright ban of several Iran Air aircraft, including the Boeing 727 and 747, due to a lack of safety compliance. Troubles didn't stop there, as until January 2016, aircraft had to make a stop in Belgrade or Prague on its way to Western Europe, as most airports would refuse to refuel their aircraft.
While the deal signals hope for the airline to rejuvenate its aging fleet, it most certainly won't be met without its challenges. President-elect Donald Trump has made it very clear on his position of opposing any negotiations or deals with Iran, which could cause issues when he assumes his new role in January of next year.
In addition, sources close to Airbus say that the aircraft manufacturer is in the process of finalizing a deal with Iran Air for approximately 60 airplanes this week.

Joe joined AirlineGeeks in 2014, and in his current role as Editor-in-Chief manages a growing team of writers both in North America and Europe. He enjoys spending the bulk of his time researching, learning and analyzing the latest trends in the airline industry, all while mentoring new members of the AirlineGeeks team who seek to do the same. Areas of research include revenue management, codeshare and alliance partnerships and airline financial results.

Latest posts by Joe Pesek (see all)