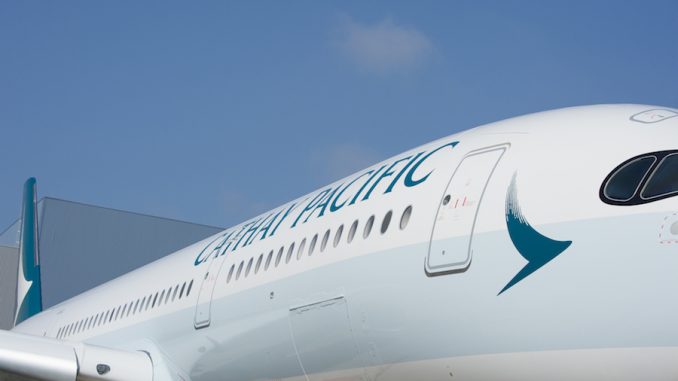 Hong-kong based Cathay Pacific has announced that they will add additional frequencies to London-Heathrow, London-Gatwick, and Manchester. This news follows a successful growth period between UK airports and Hong Kong.
Currently the carrier operates four times per week to Hong Kong from Gatwick, utilizing their Airbus A350-900 aircraft. The service will become daily from June 1, 2017. This route expansion will offer six daily non-stop flights, adding on to the extra flights from London-Heathrow.
The Manchester route, which was launched just over two years ago, will be seeing a frequency and equipment change. The carrier will receive one extra flight per week from Hong Kong, but rather than using their Boeing 777-300ER aircraft four times per week, they will be changing the equipment over to the Airbus A350-900 aircraft five times per week. The A350XWB will be configured in a Business, Premium Economy, and Economy configuration for Manchester operations, featuring an enhanced in-flight entertainment system and Wi-Fi.
Commenting on the expansion of UK frequencies was Cathay Pacific's Chief Executive Ivan Chu. He said, "The UK is a very important market for us, one which we have served for over 35 years. Our additional Airbus A350-operated frequencies to Gatwick and Manchester underline the deep-rooted commitment we have to provide both business and leisure passengers with increased convenience and superior in-flight products, which give travellers, even more, reasons to choose Cathay Pacific."
For the Gatwick flight, CX349 will leave Hong Kong at 00:55 local time before arriving in London Gatwick at 06:30 local time. The aircraft will then leave Gatwick as CX344 at 13:15 local time, before arriving in Hong Kong at 07:55 local time the following day. For the Manchester flight, CX357 will leave Hong Kong at 01:00 local time before arriving in Manchester at 06:50 local time. CX358 will then depart Manchester at 12:25, before arriving in Hong Kong at 07:05 the next day.
Cathay Pacific currently operates over 40 non-stop flights to the UK per week, including five daily services to London-Heathrow and four times weekly services to London-Gatwick and Manchester. The carrier has expanded their European network significantly over the past 12 months, operating new services to Zurich and Düsseldorf as well as Madrid and Gatwick. The carrier currently operates 93 direct flights to 10 European cities per week. In addition to the expansion in the UK, the carrier is to launch services between Hong Kong and Tel Aviv starting in March 2017.
James is a passionate AvGeek who has been actively spotting for years. James has been an Aviation Enthusiast for 7 years and has a fond likening to Concorde! James hopes to grow in the aviation industry with journalism being his primary focus.
Latest posts by James Field (see all)