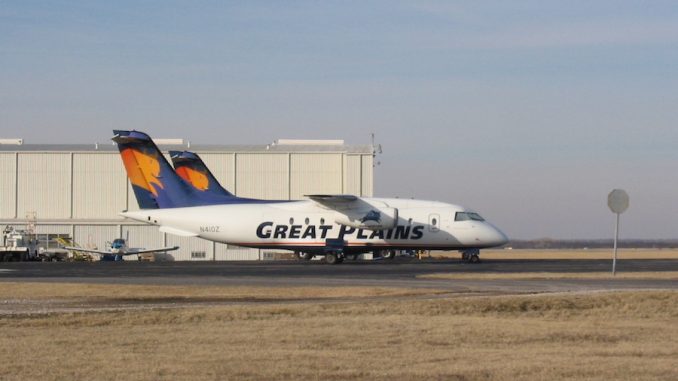 While Columbia, MO began to see route success with Trans World Airlines (TWA) in the 1990s, its local passengers struggled with high prices, leaving local resident William Stricker to take matters into his own hands. Stricker decided on buying the Ozark Airlines name, as well as two Dornier 328JET aircraft to start service between Columbia and Chicago Midway as well as Dallas/Ft. Worth (via Joplin).
The airline was granted its operating certificate on February 11, 2000 and was officially airborne on February 21. Ozark wasn't strong enough to combat the mega-Missouri airline of Trans World, and TWA's St. Louis hub crushed Ozark in the first year. By 2001, Stricker was looking to sell the airline, lucky for him someone was buying.
The city of Tulsa was looking for a way to shortcut the start-up process to gaining more service, and Ozark was an easy way to do that. Tulsa was looking for an airline to provide commercial service to the Northeast and West Coast, and when the current commercial carriers failed to provide service, the city decided on offering both loans and tax credits totaling $27 million to start an airline of their own to achieve their goal.
However, buying Ozark put a wrench in the works, since the Dornier aircraft couldn't handle Tulsa to the east or west coast nonstop, leaving flights to Nashville and Colorado Springs to be added instead. Flights to Albuquerque via Oklahoma City quickly began, as well as Oklahoma City to Colorado Springs and Nashville following soon thereafter. The airline offered 30 seats on the Dornier 328, and flights over an hour received complementary food from either Krispy Kreme in the morning or Arby's in the afternoon.
The airline struggled out of the gate, with its routes not attracting as many people as originally planned. As a result, one Dornier 328 was moved to Albuquerque based Rio Grande Air to help the regional carrier with their routes between Albuquerque and Santa Fe and Taos. The carrier also started looking into other options for routes. In 2003 the carrier gained two additional Dornier 328s and started planning destinations outside of the original route map. Flights to St. Louis and Austin were added as a way to boost their local services and provide the fleet more routes outside of operating the same two daily.
Great Plains then decided to cash in on its original promise and started flights to Washington D.C. The carrier launched Tulsa-Chicago (MDW) to Washington (IAD) flights in late 2003 as a way to attract back the passengers it lost when it never originally achieved its plans in 2002. However, the carrier never turned a profit and still owed over $17 million when it ceased operations on January 23, 2004.
However, the headache hasn't subsided for the city of Tulsa. Large column pieces were taken out in the Tulsa World as locals voiced their displeasure over the loss of large amounts of taxpayer dollars over a failed project, as well as the poor leadership that lead to purchasing Ozark Airlines despite the carrier not being able to achieve the original goal for Great Plains Airlines. The city has also faced numerous lawsuits in the years following the shutdown of Great Plains Airlines. The airline owed millions to various airports over landing fees and equipment usages, and despite the carrier shutting operations, the city still faced these lawsuits.
The last lawsuit that surfaced was in 2013 when the Tulsa Industrial Authority sued the Tulsa Airports Improvement Trust for $15.6 million over the use of the Air Force Plant 3 which housed Great Plains Airlines. Under the contract the land would be returned to the industrial authority should Great Plains claim bankruptcy, which hadn't happened. The case was settled in 2015 with the Tulsa Airports Improvement Trust paying the authority $1.5 million and releasing their hold of the former Great Plains grounds.

Ian has been an avgeek since 2004 when he started spotting US Airways Express planes at Johnstown Airport in Johnstown, Pennsylvania. He now lives in Wichita and enjoys spotting planes in Kansas City and Wichita as well as those flying at high altitudes over his home. He is a pilot with more than 40 hours of experience behind a Cessna 172, Diamond DA-20, and Piper PA-28. He flies Southwest Airlines on most of his domestic flights and Icelandair when flying to Europe. Ian's route map spans from Iceland and Alaska in the north to St. Maarten in the south. He is a student at Wichita State University, where he will study aerospace and mechanical engineering.

Latest posts by Ian McMurtry (see all)