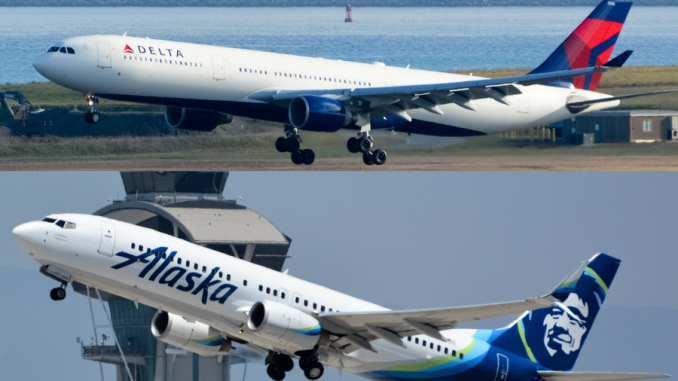 Following Alaska Airlines' acquisition of Virgin America, Delta has announced that their partnership with the Seattle-based carrier will come to an end by May 2017. In a press release, the airline stated that this decision is a positive milestone for both airlines with Alaska's focus on the merger and Delta's on growing their presence in Seattle.
From May 1, 2017, Delta and Alaska will no longer be codesharing together and flights being sold under the DL and AS coded flight numbers will also cease. The airline also said that customers of each airline will no longer be able to earn or redeem miles between the two carriers. Delta SkyMiles customers will be able to use their miles on flights operated by Alaska Airlines until the end of April 2017. Such members will not be able to purchase flights with their miles unless the ticket was purchased before Dec. 19, 2016. Delta and Alaska will, however, retain their interline agreement, which is only limited to customer ticketing and baggage connectivity.
The two airlines codeshare on a select number of flights as Delta's expansion in Seattle has eliminated the need for codesharing.
Alaska Airlines' Executive Vice President and Chief Commercial Officer, Andrew Harrison, commented on this movement of partnership saying, "At Alaska Airlines, we remain committed to our miles-based program. While many other airlines are heading in a different direction and simply looking at how much people spend, we're focused on rewarding people across the board for how much they fly. Our combination with Virgin America, our portfolio of global partners and these enhancements to our award-winning Mileage Plan demonstrate our commitment to creating the most generous loyalty program for our customers."
Following the news, Alaska Airlines announced new enhancements to their Mileage Plan program which allows more value with the miles earned by passengers. Members can book award travel within the US and Canada starting at 5,000 miles each way for trips less than 700 miles. This price used to be at 7,500 miles for trips less than 700 miles. They have also encouraged customers to use this system even more due to the codesharing agreements the carrier has with airlines such as British Airways, Cathay Pacific, Emirates, Fiji Airways, Hainan Airlines, Icelandair, Japan Airlines, Korean Airlines, LATAM Airlines, and Qantas.
Furthermore, Alaska's merger means that customers are also able to earn elite-qualifying Mileage Plan miles while flying on Virgin America.
Currently, Delta operates 150 peak-day flights to more than 40 destinations from Seattle, which includes international destinations such as Amsterdam, Beijing, Hong Kong, London, Paris, Seoul–Incheon, Shanghai, and Tokyo–Narita. Alaska operates 287 average daily departures from SeaTac, which encompasses markets served by Horizon Air. The two airlines have maintained a successful partnership since 2004.
Because of their acquisition with Virgin America, the DOJ requires that the carrier makes significant changes to its codeshare agreements with American Airlines, however the majority of codeshare flights are expected to remain intact in the short term. This agreement did not require changes to interline or reciprocal loyalty agreements or Alaska's partnership with Delta.
James is a passionate AvGeek who has been actively spotting for years. James has been an Aviation Enthusiast for 7 years and has a fond likening to Concorde! James hopes to grow in the aviation industry with journalism being his primary focus.
Latest posts by James Field (see all)