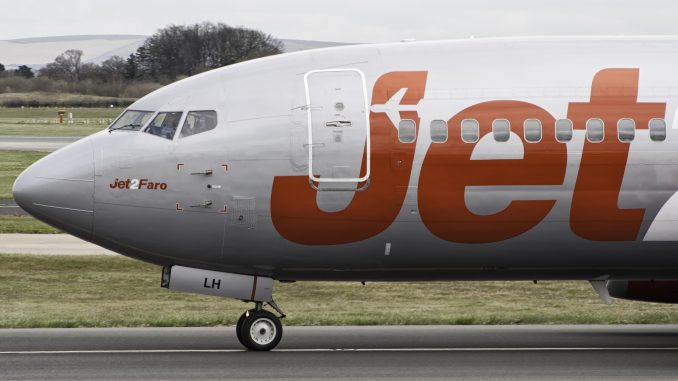 Driven by significant expected demand before the launch of its newest base in March of 2017, Jet2 announced that it will be adding additional aircraft to the base, which will operate four brand new routes twice a week throughout the Summer and Winter 2017 and 2018 seasons.
This now means that Jet2 will operate 96 weekly flights to 25 different leisure destinations from Stansted alone. According to passenger forecasts provided by OAG, a leading travel intelligence company, Jet2 will carry nearly half a million passengers during its first financial year of operations at the Stansted base, which is nearly just as much as their operations out of Birmingham and East Midlands. These two destinations have been operated by Jet2 for several years, highlighting the expected rapid growth in the Southeast.
These four new routes consist of an additional flight to Majorca on Monday, Menorca on Thursday, and Crete on Saturday. There will also be two additional frequencies being operated to Zante, which will operate on Saturday and Sunday. The new flights will add 65,000 extra seats each year to the Stansted base, as well as increase the total number of seats to be sold to 875,000, which is a capacity increase of 8%.
Steve Heapy, the CEO of Jet2.com and Jet2Holidays commented on this frequency upgrade out of Stansted: "We are delighted by the response to our London Stansted Airport launch, with our award-winning airline and fantastic package holidays having huge resonance with customers in the south of England. The phenomenal reaction to our launch means we are already growing our presence at London Stansted, with the addition of Antalya, Corfu, Dalaman and Split meaning that we now offer flights and holidays to 27 fantastic leisure destinations to customers across North & East London and the East of England."
Mats Sigurdson, Stansted Airport's Aviation Director also commented on this expansion of frequencies saying, "The announcement by Jet2.com and Jet2holidays is fantastic news for Stansted Airport and for passengers from right across the east of England and London. We were confident that the new Jet2 base would prove popular with passengers and this really positive start is a clear demonstration of the strength of demand that exists across the region."
This news follows another announcement from the airline earlier last week, indicating a new order for four additional Boeing B737-800NG (Next Generation) aircraft at list prices of $384 million. The airline hopes the additional aircraft will allow them to further expand their reach into the Southeast as well as into different European destinations that are not yet covered in their destination portfolio.
James is a passionate AvGeek who has been actively spotting for years. James has been an Aviation Enthusiast for 7 years and has a fond likening to Concorde! James hopes to grow in the aviation industry with journalism being his primary focus.
Latest posts by James Field (see all)