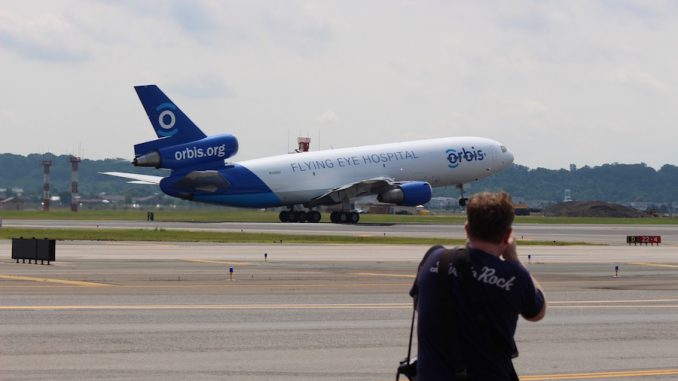 Our photography team travels far and wide to take our readers on a visual look inside the aviation world. Whether it be an airside tour or inside the flight deck, our photographers go all out to capture the passion within this industry.
Each of our photographers has picked a few of their best photos from 2016. Check them out below:
Devin Durant

A Turkish Boeing 777-300ER departs from San Francisco International Airport during the "golden hour." The photo's backdrop consists of the SFO fuel farm, which is painted with the airport's logo.
Taking a backseat onboard a Piper Cub while soaring through the sunset.
Onboard United flight 837 from San Francisco to Tokyo Narita which experienced a compressor stall leading to an engine flame out. The Boeing 747-400 can be seen dumping fuel before returning to San Francisco.
Hisham Qadri
This image was taken on a United 787-9 Dreamliner that was descending into Sydney this past May. After a 16 hour flight, the sunrise highlighted the beauty of the Dreamliner and how it is a testament to the future of aviation in terms of technological advancement, and overall design.
This photo was taken from the inside of Chicago O'hare's terminal. After sitting at gate K19 for a few hours, the Etihad 777 pushed back and offered an excellent visual perspective. This photo is unique because it brings to light the airline's old livery which will be replaced in the near future.
This photo was taken in May during a unique tour of Sydney Airport's ground operations. This image captures the majesty of Boeing's 747 along with the golden allure that exists with air travel.
Greg Linton
The GE90 is the world's largest aircraft engine, as seen in this size comparison with an engineer and the powerhouse itself. This photo was taken at Dallas-Fort Worth International Airport in June.
It doesn't get more challenging than flight training at an airport 7000 feet above sea level and surrounded by terrain. This is a Cessna 172 at Vail Eagle Airport on March 28.
As seen at AirlineGeeks' very own AAviationDay event in Chicago, American Airlines engineers are concluding engine maintenance on a 787 Dreamliner, setting it off on a journey to Los Angeles and later Auckland.
AirlineGeeks.com began in February, 2013 as a one-man (er… teenager, rather) show. Since then, we've grown to have 20 active team members, and yes, we're still growing. Some of us are looking to work in the aviation industry as professionals when we grow older. Some of us are still trying to decide what we want to do. That's okay though, because we're all here for the same reason: we love the airlines. We're the youngest team of airline industry journalists out there.
Latest posts by AirlineGeeks.com Staff (see all)