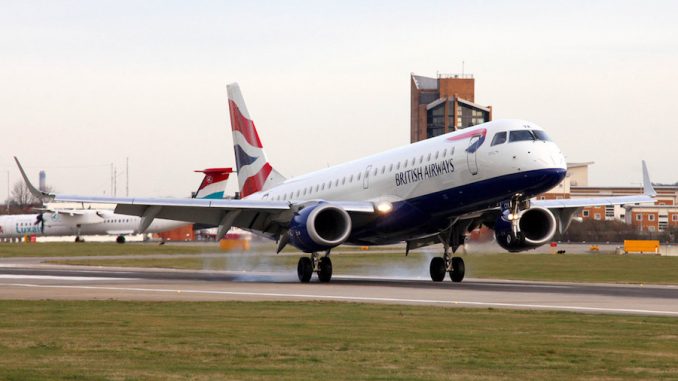 British Airways has announced sizable growth in Manchester with seven new routes operated by BA CityFlyer. The new routes will be operated by their Embraer E190 aircraft.
The additional destinations include Mykonos, Nice, Alicante, Malaga, and Palma Di Mallorca. The flights are due to start in May 2017 and will end in October for the conclusion of the Summer 2017 season. On top of this, British Airways will also offer flights between London City and Manchester, catering to the London business market.
British Airways CEO, Alex Cruz, said, "We are very excited to be launching all these new routes from Manchester and Stansted, providing customers with flights to the sun direct from their doorstep with British Airways. These are the destinations that our customers tell us they want to fly to so we look forward to a busy summer."
He continued, "In addition, the Thursday night flight from London City, in the heart of the capital's commercial district, will provide commuters with a valuable air link back to Manchester, with the return flight to London City on a Sunday."
Such routes to the destinations that British Airways will serve from Manchester will operate only on a once per week basis apart from the Ibiza route which will run three times per week. The Ibiza route alone will add an additional 35,000 seats per week to the already competitive route.
In terms of competition, the only key routes which the airline will likely thrive from is the Mykonos and Nice operations as it is only contested by Jet2 on the Nice route and easyJet and Thomas Cook on the Mykonos route. On the other hand, operations similar to the Malaga route will be subjected to tough competition from the likes of easyJet, Ryanair, Jet2, Thomas Cook, Thomson, Monarch, and Norwegian. That route in itself could potentially end up being a challenge for the carrier in terms of low-cost options for their customers. The same situation applies to that of the Alicante route with most of the major UK carriers operating to the Spanish destination from Manchester.
The new routes will offer enhanced connectivity within British Airways' network portfolio to London Heathrow due to the existing Heathrow-Manchester route that operates up to ten times per day. The individual route to London City will boost the number of daily flights into the heart of London.
Following this news of expansion in Manchester, schedules have also been released by British Airways from London Stansted, an area where they have been looking into options for continuous growth in the London market. There will be increased frequencies onto their Ibiza and Palma Di Mallorca flights from the Essex-based airport as well as the addition of three new routes to Geneva, Florence, and Nice with Faro and Malaga flights only continuing during summer operations. These flights will only operate on a weekend basis due to high amounts of weekly and seasonal demand from the airport.
James is a passionate AvGeek who has been actively spotting for years. James has been an Aviation Enthusiast for 7 years and has a fond likening to Concorde! James hopes to grow in the aviation industry with journalism being his primary focus.
Latest posts by James Field (see all)