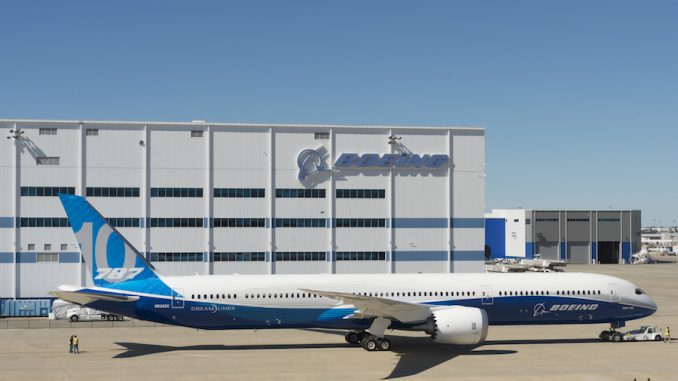 On Friday, Boeing rolled out the first 787-10 Dreamliner at the manufacturer's North Charleston facility. The facility, which opened in 2011, was the celebration ground as thousands of Boeing employees gathered alongside South Carolina's Governor Henry McMaster and U.S. President Donald Trump.
Starting as an idea to stretch the 787-9 variant in 2005, Boeing began working on the 787-10 to allow for an increase of passengers and fuel efficiency in comparison to other Dreamliner variants.
The aircraft stands 18 feet longer than the 787-9 which allows for an increase to 330 passengers in a standard two-class configuration. The extra length also allows for a 15 percent increase in the amount of cargo space.
The newest addition to the Boeing family has a maximum range of 6,430 nautical miles and receives 25 percent better fuel and emissions than the aircraft that will be replaced by the 787.
"What's happening here at Boeing South Carolina is a true American Success story. In just a few short years, our team has transformed a greenfield site into a modern aerospace production facility that is delivering 787's to airlines all over the world and supporting thousands of U.S. jobs in the process," said Boeing Chairman, President, and CEO Dennis Muilenburg.
Boeing plans to start delivery of the 149 ordered aircraft to nine different airlines in 2018. The unconfirmed list of airlines with orders for the 787-10 are launch customer Singapore Airlines, Air Lease Corporation, United Airlines, British Airways, and GE Capital Aviation Services.
These orders were released by Boeing in June of 2013.
Boeing Commercial Airplanes president and CEO Kevin McAllister added, "This airplane, the most efficient in its class, is the result of years of hard work and dedication from our Boeing teammates, suppliers, and community partners in South Carolina and across the globe."
The 787-10, built solely in South Carolina, will take to the sky for initial testing in the near future.
Matthew Garcia became interested in aviation at the age of 12 when he installed Microsoft Flight Simulator X on his computer. He was instantly "bitten by the bug" and has been in love with aviation ever since. Matthew took his first introductory flight in 2013 and began normal flight training in February of 2015. Over the years, Matthew's love and knowledge for aviation has grown tremendously, mainly due to FSX. Garcia flies highly advanced aircraft in a professional manner on a highly complex virtual air traffic network simulating real world flying. In 2016 Matthew achieved his private pilot certificate from the FAA. Now he studies journalism at the University of Nebraska at Omaha.
Latest posts by Matthew Garcia (see all)