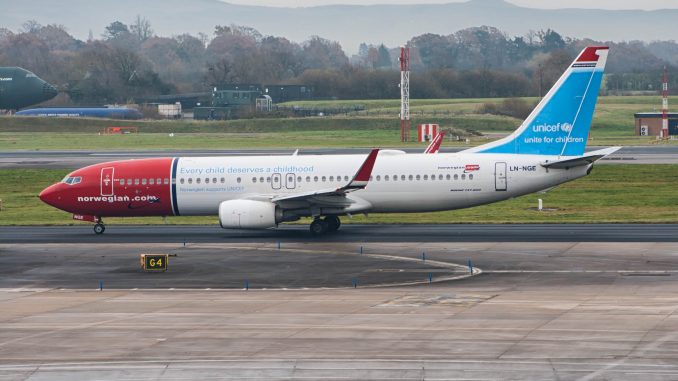 Driven by global expansion through new routes, high load factors, and a continuation of their fleet renewal, Fornebu-based carrier Norwegian has reported strong growth in the last quarter of 2016 as well as overall positive growth for last year. Norwegian's annual net profit for the year was reported at 1.135 million NOK (£109 million) with Q4 2016 profits being 197 million NOK (£1.905 million). The carrier has said that such high results have been driven mainly by international growth on their intercontinental routes as well as their increased route portfolio within Spain and the United Kingdom.
Norwegian CEO Bjorn Kjos commented on the carrier's best-ever results, "We are very pleased to report our best ever results in a year of strong international growth, establishing operations in new markets and tough competition. Through our global strategy, we are contributing an economic boost and increased employment at our destinations, as well as ensuring that more people can afford to fly – not least between the continents. In 2016, we received several major international customer awards, which would never have been possible without our dedicated colleagues at Norwegian."
He also added information about the growth that Norwegian is predicted to gain over the course of the new financial year. "We enter 2017 with the ambition to increase and strengthen our foothold in established markets, while simultaneously developing our route network in new parts of the world. This year, 32 brand new aircraft will enter service, including nine Boeing 787-9 Dreamliners. We will launch more than 50 new routes and recruit over 2,000 new colleagues worldwide."
Norwegian recorded a total revenue of more than 26 billion NOK (£2.5 billion), which was an increase of 16%. The growth also aligned well with the airline receiving a total of 21 brand new aircraft in 2016. The airline's load factors have increased by 1.5% over the year to now 88%. This number is significantly higher than the industry average load factor which was 79.7% in 2015. For Q42016, load factors were at 86%, with over seven million passengers flying Norwegian. On an annualized spectrum, Norwegian carried a total of 29.3 million passengers for 2016.
Operating performance saw the carrier's punctuality fall by 9% to 74% in Q42016 with 99.5% of their flights actually taking place. At the end of 2016, the carrier's fleet count was at 116. However, there is some concern from analysts that the airline is creating too much capacity too quickly with the introduction of more aircraft, which will create higher costs in running the low-cost airline. Kjos was quick to defend the airline's fleet plan stating, "It is necessary for us to build up as we receive Dreamliners."
James is a passionate AvGeek who has been actively spotting for years. James has been an Aviation Enthusiast for 7 years and has a fond likening to Concorde! James hopes to grow in the aviation industry with journalism being his primary focus.
Latest posts by James Field (see all)