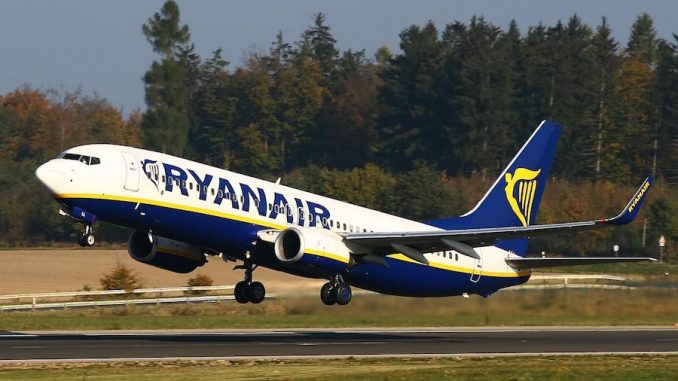 Irish low-cost carrier Ryanair has announced that they will be increasing their schedule from Scotland during the winter of 2017. Ryanair will operate 15 new routes out of Scotland's airports, which the airline has said will deliver a 20% growth in passenger numbers per year.
The carrier currently operates out of four Scottish airports; Edinburgh, Glasgow International, Glasgow Prestwick, and Aberdeen.
The airline claims that these new routes will enable them to increase their employment numbers to 3,750 people in Scotland. Ryanair already operates daily service to European capitals with daily flights from Scotland to Rome and Berlin, six times daily flights to Dublin, and seven times daily flights to London.
Looking further into the expanded schedule, the largest expansion of flights is coming out of Edinburgh with a whopping 13 new routes being announced. Destinations will include Baden, Carcassonne, Budapest, Hamburg, Katowice, Nates, Szczecin, Toulouse, Wrocław, Eindhoven, Venice Treviso, and Valencia.
In addition to all of these new routes, Ryanair said they will also be increasing the number of flights from Edinburgh to Copenhagen and Fuerteventura, giving the carrier a total of 38 routes operating out of Edinburgh alone.
The last two routes that Ryanair has added will be operated from Glasgow International Airport to both Krakow and Madrid, bringing their total flights out of Glasgow International up to 17 routes in total.
In a statement, Ryanair's CEO Michael O'Leary stated,"We are pleased to launch our biggest-ever Scotland winter schedule, with 15 new routes and 20% growth which will deliver over 5 m customers p.a. and support 3,750 jobs at Ryanair's four Scottish Airports. We are also pleased to report record bookings on our Scottish summer 2017 schedule, and Scottish customers can look forward to even lower fares, so there's never been a better time to book a low fare flight on Ryanair. We urge all customers who wish to book their holidays to do so now on the Ryanair.com website or mobile app, where they can avail of the lowest fare air travel to and from Scotland."
All of this comes as Ryanair continues to move forward with agreements alongside the Scottish government to expand their flights and route network out of Scotland, based on the promise that the Scottish Government will scrap the current Air Passenger Duty (APD) that is in place.
Continuing from his earlier statement, Michael O'Leary, when asked about the APD, said,"We call on the Scottish Government to follow the Irish example and scrap APD entirely to allow Scottish traffic, tourism and jobs to grow and ensure Scottish airports can compete and attract more business. The scrapping of APD would enable Ryanair to base more aircraft in Scotland, add even more new routes and create thousands of additional jobs."
This new expansion shows Scotland's impressive growth in aviation so far this year, with other carriers such as Air Transat already investing in plans for future Scottish development.
Alongside Ryanair, Norwegian Air has made strides to further expansion from Scotland, creating more competition between two major low-cost carriers in Europe.
Tomos has had a keen interest in aviation for over 10 years and 4 years ago he decided to take it to the next level. He currently holds a private pilot's license and is working towards his commercial license.
Latest posts by Tomos Howells (see all)