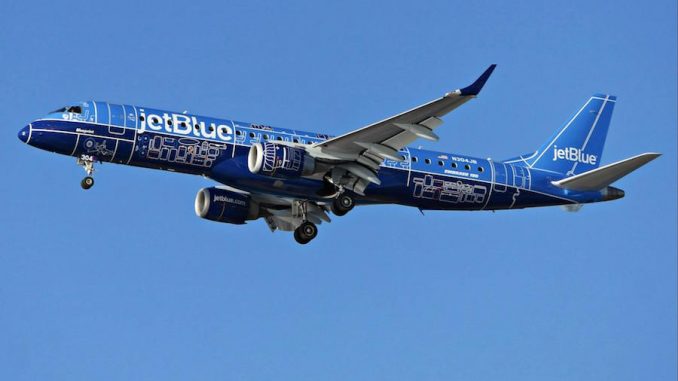 On Monday, New York-based jetBlue showed off a new special livery on N304JB. Along with the special livery, the airline released a new tailfin design that will roll out across multiple aircraft in the fleet within the coming year.
The introduction of the special livery and new tailfin coincides with the celebration of the airline's 17th anniversary, which took place earlier this month.
Although this is not jetBlue's first special livery, it will be the first to be featured on the Embraer 190 aircraft, with all others being on the Airbus A320 fleet.
The carrier has introduced special paint schemes on various aircraft that highlight their brand and image. These include FDNY, Vets in Blue, and 'What's Old is Blue Again.'
The latest special livery called 'Blueprint' is one of the most detailed special liveries to date. It features what looks like a blueprint of the aircraft, plastered on the fuselage.
The "see-through" paint includes many aspects of air travel, some being more technical than others. For example, under the cockpit windows, one can see the yoke, nose gear, and the heads up displays pilots use while flying.
Further back along the side of the passenger cabin, seats are noticeable along with special items that have come from different travel moments and crew member tails. These items are scattered across the airplane and can make for a fun game of eye-spy for plane spotters or passengers who are waiting to board their flight.
The special livery debuted at Boston Logan International Airport and will operate on routes across the JetBlue network that are served by the E190. After rolling out of the paint shop in Trois-Rivieres, the aircraft has flown to Fort Myers, Savannah, Cleveland, Newark, and West Palm Beach.
In a press release from the airline, Jamie Perry, jetBlue's Vice President of Marketing said, "Our design team has done an outstanding job of visually telling a JetBlue story through their fresh and creative lens. Whether looking to the skyline of our hometown for inspiration or creating a storyline to bring a paint scheme to life, the team keeps surprising our crewmembers and our customers with their innovative work."
In addition to the 'Blueprint' special livery, the airline revealed its newest tailfin design called 'Highrise.' The new design pays homage to the airline's hometown of New York City, featuring buildings that emulate the iconic skyline.
The design is also meant to reflect the airline's growth along with New York's desire to reach for the sky.
Jace has been working at AirlineGeeks for nearly three years. Born in Seattle, Boeing and aviation quickly took over his life and he never stopped looking up. Jace enjoys plane spotting and taking trips just so he can fly. He is currently studying at Embry-Riddle Aeronautical University while earning his Bachelors of Science in Air Traffic Management.
Latest posts by Jace Moseley (see all)