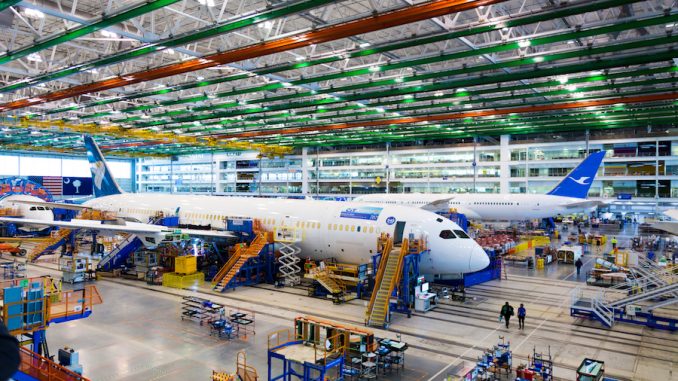 Boeing, though often associated with their main facilities in Seattle, has other sites around the U.S. and the world. One of these facilities is their rapidly expanding final assembly and delivery center in North Charleston, S.C.
Referred to simply as Boeing South Carolina, the facility is one home (the other being Everett, Wash.) to the 787 Dreamliner, which includes all three variations of the aircraft, the 787-8, 787-9, and the most recent addition, the 787-10.
The center ultimately fabricates and installs aft fuselage sections, and integrates midbody fuselage sections, where they are either shipped to Everett, Washington for final assembly or remain in North Charleston, according to Boeing. The center also serves as a delivery center for customers to receive their new 787 aircraft.
Three facilities, established at a 141-square acre area identified as the north campus, also exist a short distance away from the main campus in North Charleston. Implemented in 2011, the Interior Responsibility Center South Carolina is the first of these facilities, and works to manufacture interior 787 components, including closets, dividers, crew rest areas, stowbins, and video control stations. 2014 brought about the Boeing Research and Technology Center, which focuses on composite fuselage manufacturing and advanced technology.
Despite the primary focus of Boeing South Carolina being the 787, the third facility, Propulsion South Carolina, works on designing and assembling the 737MAX engine nacelle inlet and fan cowl, and the 777X nacelle.
In late 2016, a new painting facility was also added to Boeing South Carolina.
According to Boeing, the South Carolina site is their first 100% renewable energy site, with about 20% of that energy coming from solar panels on the 787 Final Assembly building. Additionally, it is their fourth site to obtain Zero Waste to Landfill status in 2011, meaning that no waste was generated that ended up in a landfill.
AirlineGeeks.com recently had the opportunity to take a look inside the 787 manufacturing facility. This also included the delivery ceremony for Korean Air's first 787-9 Dreamliner. The photos are viewable below:
Factory Visit
Korean Air 787-9 Delivery
This story was written by Ashley Magoon featuring photos from AirlineGeeks Lead Photographer Hisham Qadri. 
AirlineGeeks.com began in February, 2013 as a one-man (er… teenager, rather) show. Since then, we've grown to have 20 active team members, and yes, we're still growing. Some of us are looking to work in the aviation industry as professionals when we grow older. Some of us are still trying to decide what we want to do. That's okay though, because we're all here for the same reason: we love the airlines. We're the youngest team of airline industry journalists out there.
Latest posts by AirlineGeeks.com Staff (see all)