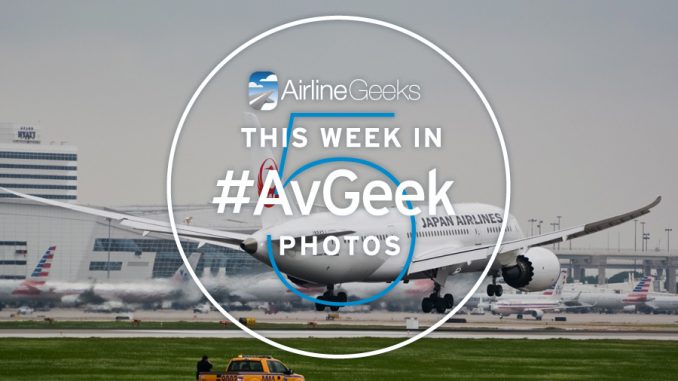 A photo is a thousand words. An aviation photo can serve as a testament to the essence and magic of flight while also telling a story. Each week, the AirlineGeeks team compiles five aviation photos that tell a story and capture the uniqueness of flight.
Senior Airfield Operations Officer Aaron Augustine (xaaza3x) gets up close to aircraft everyday while working at Perth International Airport. In this photo, his airside operations vehicle is visible along with a Air Mauritius A330 departing from runway 25 as flight MK441
Chicago-based aviation photographer Nicholas McGowan (chicagospotter) snapped this photograph of a Scoot 787-8 returning from high-speed taxi tests at Paine Field. Scoot is a low-cost long-haul carrier owned by Singapore Airlines. The airline currently operates 12 Boeing 787 aircraft.
While departing Austin Bergstrom International Airport, Andre Lenartowicz (austinspotter) captured this great photograph of the terminal. The construction work seen is part of the airport's $289 million expansion to add nine new gates along with more shops and amenities. Additionally, the eastern most gate in the photo is 720 feet long.
On Wednesday AirlineGeeks.com covered the delivery of Korean Air's first Boeing 787-9 at Boeing's South Carolina manufacturing facility. The aircraft is the first delivered to any airline in South Korea and is one of the ten currently on order for Korean Air. (Photo: AirlineGeeks.com | Hisham Qadri)
Seattle-based photographer Huy Do captured this shot of Batik Air's 737 MAX 8. This is the second 737 MAX aircraft to feature a full livery, the first being Southwest. Both aircraft are currently parked near Boeing's 737 assembly line in Renton, Wash.
AirlineGeeks.com began in February, 2013 as a one-man (er… teenager, rather) show. Since then, we've grown to have 20 active team members, and yes, we're still growing. Some of us are looking to work in the aviation industry as professionals when we grow older. Some of us are still trying to decide what we want to do. That's okay though, because we're all here for the same reason: we love the airlines. We're the youngest team of airline industry journalists out there.
Latest posts by AirlineGeeks.com Staff (see all)