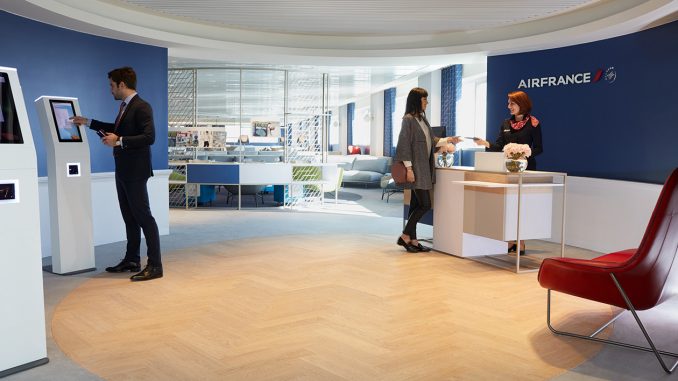 Starting March 1, 2017, select passengers traveling through Terminal 2G at Paris Charles de Gaulle Airport will be able to experience a new, more expansive lounge.
According to the airline, the lounge, which is open to Air France Business and Elite Plus customers, is about five times larger than before, now measuring 730 square meters (7, 857 square feet).
Customer service in the 2G lounge is available both through Air France agents or entirely through the interactive kiosks and is designed for passengers on medium-haul flights to France and throughout Europe to obtain access to the lounge quickly and efficiently.
According to the carrier, the new lounge represents the airline's values of attention, pleasure, and quality and conforms to their theme, "France is in the air." Described as chic and creative, the lounge will include spacious sofas, chairs, and designer cushions. Also, the company intends to provide a sense of comfort and luxury in the shower area, which will feature spa products and services.
The 2G lounge will also feature a Parisian brasserie-style dining area, which consists of an open kitchen and freshly prepared dishes. There is also a coffee bar and snacks readily available.
Beginning in May 2017, the area will be able to accommodate a baker preparing fresh French pastries in front of customers.
"Air France is committed to the move upmarket of its products and services. It was capital for our lounges to accompany these developments, notably on medium-haul routes where customers spend as much time at the airport as on the flight. This has been achieved with this modern and efficient lounge for our customers, offering them fast and easy access, a generous and comfortable space and a selection of fresh dishes. This premium lounge, reflecting our French Touch, is a considerable asset for Air France compared with our competitors", said Air France CEO Franck Terner.
Ashley is currently a senior in high school and plans on pursuing a career in aviation or journalism. Her favorite airplanes include the Boeing 777, 737MAX, and Airbus A350. She enjoys taking flights on various airlines to different airports and planespotting at her local airports.
Latest posts by Ashley Magoon (see all)