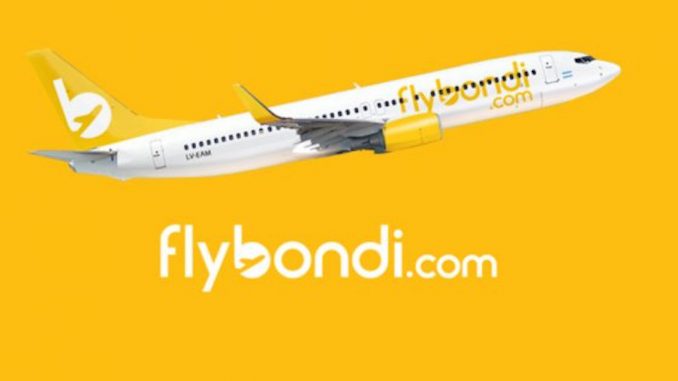 Beginning in September, travelers in Argentina will have a new option when it comes to budget travel. The nation of 44 million people currently has two main methods of domestic travel; state-run Aerolineas Argentina and buses. But, Argentina's government has announced that it will now allow the country's first budget airline, FlyBondi, to take flight.
FlyBondi's Chief Executive, Julian Cook, told the Wall Street Journal that seats will cost less than a bus ticket. To offer an example, a one-way bus trip between Buenos Aires and Mendoza, a city in Argentinian wine country, costs about 1,530 pesos or about $100 and takes 16 hours. A flight with Aerolineas Argentina starts at about $78 one-way and takes about two hours.
Initially, the airline is planning flights to the Argentinian cities of San Carlos de Bariloche, Córdoba Int'l, Comodoro Rivadavia, El Calafate, Iguaçu, Mendoza, Neuquén, Resistencia, Rio Gallegos, Salta Tucumán and Ushuaia with six aircraft.
By 2021, the airline hopes to have transported eight million passengers and have a fleet size of 30 aircraft. The specific aircraft that FlyBondi wishes to use has not been determined yet, but both Airbus and Boeing are being considered, with Cook showing interest towards the Boeing 737-800.
In order to avoid high costs, the airline has suggested the possibility that it may use alternative airports in Buenos Aires. With the current airports of Aeroparque Jorge Newberry and Minastro Pistarini International Airport (Ezeiza) containing a heavy presence of Aerolineas Argentina and other South American low-cost carriers such as Gol and Sky, the airline is on the lookout for smaller airports in El Palomar, Moron or La Plata. "It's still not fully decided…regardless, the goal is to avoid Aeroparque," Cook stated.
South America's second largest nation has been in a lengthy recession for some time, and President Mauricio Macri has vowed to lift restrictions to help ease high travel costs. Last year, he announced that the country would open up 135 new airline routes. However, as with any new start-up airline, there are still hurdles in the way of a successful launch.
Argentina requires its pilots to be Argentine, meaning staffing could be difficult. Also, high operating costs and state-mandated pricing have made domestic air travel increasingly difficult, hence the domination of Aerolineas Argentina. In an interview with La Nacion, Cook remained optimistic: "We believe we can work well for a while [within the restrictions]. In addition, as the prices are in pesos, inflation will lower that amount in real terms by about 20 percent for the next year. We also believe that around the middle of next year the minimum cap will be removed."
The airline seems to be in good hands as Cook, a Swiss national, founded and directed Swiss airline Flybaboo. Initial investors of FlyBondi also included Michael Cawley, Executive Board Member of Ryanair; former Air Canada CEO, Monti Brewer; and British Airways CityFlyer Express founder/ex-chairman, Robert Wright.
If successful, FlyBondi could push other airlines to tap into the market, making travel within Argentina even more attractive. As of right now, flights are slated to begin September 2017.
An "AvGeek" for most of his life, Akhil has always been drawn to aviation. If there is an opportunity to read about an airline, fly on a new airplane, or talk to anyone about aviation, he is on it. Akhil has been on over 20 different kinds of aircraft, his favorite being the MD-80. Additionally, he has visited 5 continents and plans to knock out the remaining two (Africa and Antarctica) soon. Based in Dallas, Akhil graduated from Texas A&M University with a degree in Management Information Systems and currently works in consulting. His dream is to become an airline executive.
Latest posts by Akhil Dewan (see all)