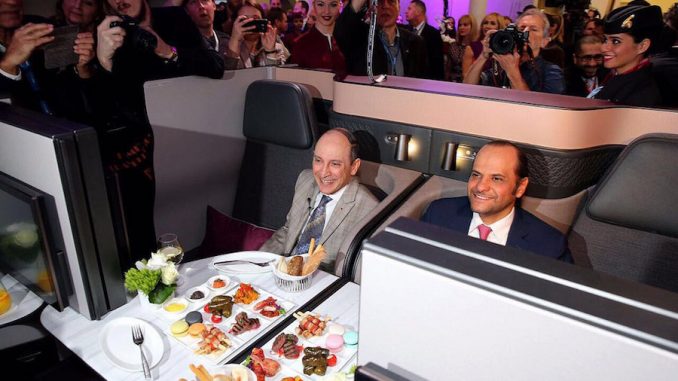 To celebrate its twentieth anniversary, Doha-based Qatar Airways has announced some sizable upgrades to their passenger experience.
Qatar has released a new business class cabin which has raised the bar from previous standards. The new experience, entitled "QSuite," was revealed to the public by Qatar Airways Group Chief Executive, His Excellency Akbar Al Baker on Wednesday. This announcement was a part of the ITB Berlin exhibition in Germany.
The QSuite is the first business class double bed in the airline industry. The suite is fully customizable including stow away privacy panels (fitted with a Do Not Disturb sign), movable TV screens, and adjustable panels on the middle section seats.
These panels fold down allowing up to four passengers seated in the aisle to work, dine, or talk together. The business class seats are fitted with hand-stitched Italian leather and satin rose gold finishing, upping the style and luxury of the suite.
Along with the new cabin, sharing dishes have been added to the new dine on demand business class menu. These sharable snack dishes are designed to bring passengers together and create a social atmosphere in the sky. An Express Breakfast has also been added for those passengers who need to catch up on some sleep.
"Today I am proud to unveil the future of Premium travel with our new QSuite Business Class," stated Qatar Airways Group Chief Executive, His Excellency Mr. Akbar Al Baker.
"Our unique and patented design is a world first in many ways and challenges industry norms by offering passengers more privacy, more choice and more personalisation. With these innovations, Qatar Airways has revolutionised the way we serve our Business Class travellers, enabling our passengers to enjoy a First Class experience in Business Class. This is truly Business Class as never seen before and is entirely in keeping with our Premium product and service philosophy. On Qatar Airways, you choose when you dine, and the menu options are varied, with something for everyone. You choose when you rest, and when you want entertainment; we offer more choices than any other airline. It only makes sense to give you the choice to make your own cabin-within-a-cabin, creating double QSuites or quadrants."
QSuite is a massive upgrade from the airline's current business class product. The current class has individual private seating, however, it is open to the aisles, resulting in passengers being easily disturbed by passersby.
The current seats offer plenty of room for work or leisure with storage space, USB, and power sockets. The on-demand menu is offered as well as the Castello Monte Vibiano Vecchio amenity kits.
As the 2016 winners of Skytrax's "World's Best Business Class" award, Qatar Airways is continuing to improve the passenger experience. The airline is using new chinaware and cutlery, along with improved bed liners and furnishings. The bedding comes with a new partnership between Qatar and The White Company. The airline is also offering new-and-improved amenity kits which include Castello Monte Vibiano Vecchio products.
Qatar Airways also gave their inflight entertainment an upgrade. Oryx One, the carrier's award- winning entertainment system, has a newly designed interface allowing for ease when browsing 3,000+ entertainment options. An upgrade to a better inflight internet option was also announced and will be introduced this summer.
The QSuites will be retrofitted on one aircraft per month beginning in June of 2017.
Matthew Garcia became interested in aviation at the age of 12 when he installed Microsoft Flight Simulator X on his computer. He was instantly "bitten by the bug" and has been in love with aviation ever since. Matthew took his first introductory flight in 2013 and began normal flight training in February of 2015. Over the years, Matthew's love and knowledge for aviation has grown tremendously, mainly due to FSX. Garcia flies highly advanced aircraft in a professional manner on a highly complex virtual air traffic network simulating real world flying. In 2016 Matthew achieved his private pilot certificate from the FAA. Now he studies journalism at the University of Nebraska at Omaha.
Latest posts by Matthew Garcia (see all)