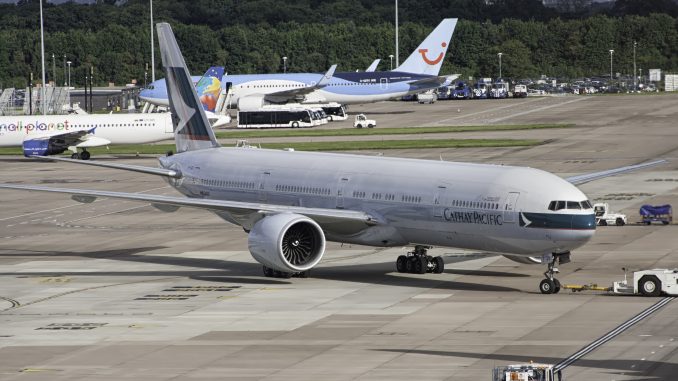 Hong Kong-based carrier Cathay Pacific has announced an expansion of frequencies on existing routes across three different continents in their network. These flights will be operated by the carrier's new Airbus A350 aircraft that they just recently began receiving.
Commenting on the route expansion was Cathay Pacific's Director of Corporate Development & IT Paul Loo: "Our network enhancements are designed to improve our customers' experience through greater choice and added convenience. Increasing frequencies to these popular Cathay Pacific destinations strengthens our ability to connect our passengers with all corners of the world in addition to growing our home hub of Hong Kong." He also added that the airline's frequencies increasing are a result of growing passenger demand. 
North America
For the North American continent, Cathay Pacific will be redeploying resources due to strong demand in San Francisco. This destination will be served three times per day to Hong Kong and will be operated by the Airbus A350. This will make San Francisco, the West Coast city, the first destination in the US to host a Cathay Pacific A350. Contrary to the expansion in San Francisco, the Los Angeles route will be downgraded from 28 weekly flights to 21 flights per week. This is due to the airline shifting capacity to provide more service in Vancouver and Boston.
Australia
The continent of Australia has received additional demand for flights to Hong Kong, as well has made Cathay rethink their tactics for this fast growing market. During the peak summer period from October 2017 to March 2018, Cathay will replace its one-stop service, currently operating four times per week to Brisbane via Cairns, with direct flights to both cities. This means that Queensland's capital will receive 11 non-stop flights per week with Cairns receiving three non-stop weekly flights to Hong Kong.
On top of this, Brisbane's daily flight will be served by the Airbus A350 beginning on March 26, 2017. Cathay has also announced that from late October 2017, the Sydney route will also have an increase in frequencies on their four times daily service by operating the third flight with the Boeing 777-300ER.
Europe
Recently, Cathay Pacific has expanded its European network considerably. Madrid, Spain will see an increase in weekly flights from four to five from October 2017, with Manchester gaining a sixth weekly flight from December 2017. Furthermore, Paris will see an additional weekly service resumed, bringing total weekly flights to Paris at 11.
In a few weeks, on March 26, Cathay will launch a brand new four times per week service to Tel Aviv, Israel and will be introducing new seasonal services to Barcelona in the Summer 2017 season and Christchurch for the Winter 2017 season.
Currently, Cathay operates 108 weekly flights to North America, 93 weekly flights to Europe and 75 weekly flights to Australia. The carrier has been growing substantially over the past few years as it continues to face a challenging market in Asia. It hopes that the additional routes will allow it to expand its hub service in Hong Kong, as well as grow its traffic from both leisure and business travelers.
James is a passionate AvGeek who has been actively spotting for years. James has been an Aviation Enthusiast for 7 years and has a fond likening to Concorde! James hopes to grow in the aviation industry with journalism being his primary focus.
Latest posts by James Field (see all)