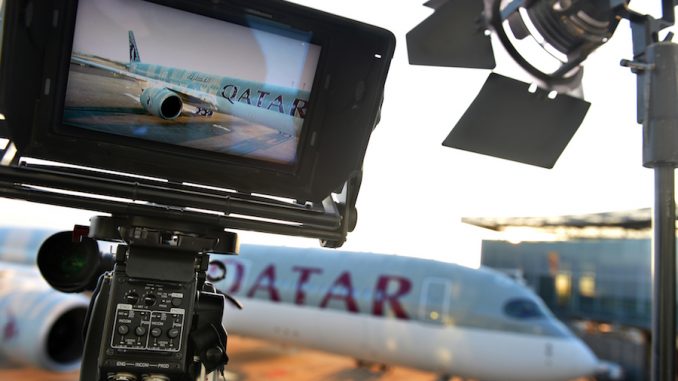 Everyone has their own way of taking pictures of airplanes; some use an iPhone or a basic digital camera, while others might purchase professional camera equipment. Many planespotters don't receive monetary compensation for braving the elements to photograph airplanes. But for many, it isn't about the compensation, but rather about a passion for aviation.
For airlines and aircraft manufacturers, having a well-established photographer at their disposal is critical to document events, new aircraft, and other developments. For Airbus, an aircraft manufacturer based in France, a full-time photography team is a must to show off both new and old products to the public that may not be able to see them first-hand.
AirlineGeeks spoke with one of Airbus' corporate photographers, Alexandre Doumenjou, who shared his experience professionally photographing airplanes and how he wound up in an aviation enthusiast's dream job.
Doumenjou started taking photos at a professional level in 1999 with a major photography firm before beginning his work with Airbus in 2008. He is originally from Toulouse but resides in South France. He began his career by doing 2D and 3D renderings to assist with plans for buildings before eventually moving into professionally photograph airplanes.
Doumenjou said he always had an interest in taking pictures of various aircraft. His father works in aviation, and would always be taking pictures of airplanes. When Doumenjou got time, he would go to the airport and take photos of famous aircraft including the Airbus A380, the massive double-decker, and at one point, even the Concorde.
Since he lived in Toulouse, which he notes as "a city of aircraft," Alex always enjoyed going out and taking pictures of airplanes.
Though he has enjoyed photographing aircraft in his leisure time, he does not call himself a planespotter. "I know a lot of planespotters in Toulouse. I know lots of them but I am not really one," he added.
Unlike them, he gets paid to take photos. As seen on many of Airbus' social media platforms, the manufacturer does a stellar job of capturing aircraft inflight. Along with the other members of the Airbus photography team, Doumenjou sometimes works to facilitate and coordinate these shoots.
"It is really easy. You have to be involved in every briefing. You have to be there to know what happened during the flight." He also notes that for these shoots to work, you have to be listening in to every radio frequency to ensure perfection.
He continued by emphasizing the importance of the airline's needs. "You have to know exactly what the airline wants – what kind of picture."
Like many aviation photographers, Doumenjou braves the elements to get the perfect shot, even if that means sub-zero temperatures. He says that the most challenging photoshoot in his career was capturing the Airbus A320neo undergoing temperature testing.
"I spent three weeks [making adjustments] for cold and hot. Minus 46 degrees to plus 54 degrees [celsius]," he said.
His most memorable photoshoot was taking pictures of the Aurora Borealis while seated in the flight deck over Canada. With countless aviation photos circulating around the web, Doumenjou offered advice to those who believe their images might have been violated or improperly used. He noted the importance of reaching out to the user of the photo and saying that it was not made for that purpose.
To ensure consistent photos for Airbus and the news media organizations that use them, Alexandre is sure to know the needs of every request; According to him, "You just have to be really, really aware."
Interestingly enough, Doumenjou goes out and photographs airplanes for fun while not working.
"I like photographs and I like aircraft. When there is local airshows and meetings, I really appreciate taking pictures of other aircraft."
Alex also shared some tips for aspiring planespotters. "The more you try, the more you get," he added. He said it can take time and training but even bad weather can make for a great shot.
In order to capture airplanes, Doumenjou uses different types of camera equipment, including a Nikon D4 and a 24-70mm lens, along with a 80-400mm for body and takeoff images.
Doumenjou does call himself an aviation enthusiast (AvGeek). "I love aircraft and I love photographs." He says it is a real pleasure to show up to work with a smile on his face while taking pictures of airplanes. He also says that he hopes to take pictures for a long time, mentioning that providing good pictures to those who like aviation is very enjoyable.
While aviation photography may be a career for a lucky few individuals, Alex proves that with a little hard work and passion, anything is possible.
Ryan founded AirlineGeeks.com back in February 2013 (actually, it was called Aviation Official, but we've changed a bit since then). From being on the yoke of a Piper Navajo, to visiting about Delta's operations center in Atlanta, Ryan has done it all. in 2016, along with American Airlines, Ryan masterminded AAviationDay at more than 10 locations around the world. The smell of jet fumes in the morning along with the countless number of passionate airline employees keep him enthralled in the industry, always seeking more. You can find him helping out travelers at Reagan National Airport near Washington, D.C. when he's not doing something for AirlineGeeks.
Latest posts by Ryan Ewing (see all)