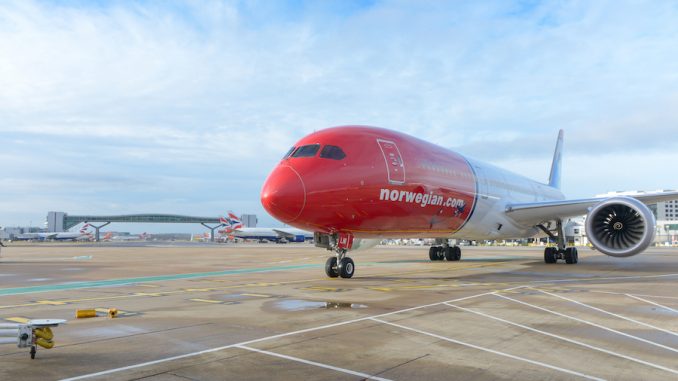 On Wednesday evening, Norwegian announced it would launch flights from both Denver International Airport and Seattle-Tacoma International Airport to London-Gatwick Airport, starting in September of 2017. 
The addition of these two flights marks the eighth and ninth route from London-Gatwick for Norwegian.
Flights will be operated by the airline's Boeing 787-9 Dreamliner aircraft which feature both a premium cabin and a standard economy cabin. Fares from London to both Denver and Seattle will start at $199 one way, not including dining, baggage, and other amenities. The lowest premium cabin fare on both flights start at $830 each way.
Service from Seattle to London will launch on a four-times per week basis starting on September 17, with flights operating on Mondays, Wednesdays, Fridays, and Sundays.
Service from Denver to London will launch on September 16, on a twice daily basis. Service will increase to three times per week during the winter season, starting November 2. 
The twice daily services will operate Tuesdays and Saturdays, with the third daily rotations taking place on Thursdays.
In a statement, Lance Lyttle, Managing Director of Seattle-Tacoma International Airport said, "The Port of Seattle is pleased to welcome Norwegian's service on the environmentally-friendly Boeing 787, which was born right here in the Pacific Northwest. The Port's Century Agenda includes adding more air services to provide travelers with additional choices. It is a testament to our region's economic growth that Sea-Tac is able to add another global airline."
These flights add to the growing list of routes that Norwegian has planned for the upcoming year. In total Norwegian will offer 48 transatlantic flights from 13 destinations in the United States. These flights have end destinations in seven countries including the United Kingdom, France, and Spain.
Norwegian currently operates a fleet of Boeing 737 and 787 aircraft with an average age of 3.6 years old. They also have a total of 108 Boeing 737 Max 8s on order due for delivery starting in May 2017.
The all-Boeing fleet will be joined by 30 Airbus A321LR aircraft starting in 2019.
Jace has been working at AirlineGeeks for nearly three years. Born in Seattle, Boeing and aviation quickly took over his life and he never stopped looking up. Jace enjoys plane spotting and taking trips just so he can fly. He is currently studying at Embry-Riddle Aeronautical University while earning his Bachelors of Science in Air Traffic Management.
Latest posts by Jace Moseley (see all)