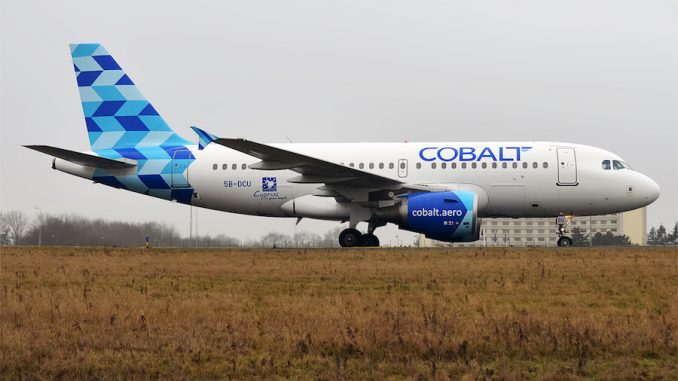 Cypriot carrier Cobalt Air recently announced that they will add additional frequencies on their Manchester flight from Larnaca. They will be adding a third weekly flight to Ringway during the Summer 2017 season with flights starting from around £76 one way.
This route addition comes after over a year of successful operations from the airport. The flights will be operated by the Airbus A320.
Andrew Madar, CEO of Cobalt Air, said, "Cobalt is committed to serving the Manchester-Larnaca route year round. Our commitment to Manchester is evident from our increase in frequency from twice to three times per week which will be available year round."
Stephen Turner, Commercial Director for Manchester Airport, added,"It's great news that Cobalt Air has chosen to increase the frequency of their flights to Larnaca and also offer year round services. Cyprus continues to be a hugely popular destination for the 22 million passengers in our catchment area."
Although they have expanded their frequencies and route portfolio significantly over the past year, is Cobalt performing well for the markets?
Cobalt was founded in 2015 and launched its first commercial flight in July 2016. It was started by CEO Andrew Pyne before Andrew Madar took over in August 2016. The airline's first aircraft arrived in April 2016 and by May, they were given their Air Operators Certificate to launch operations to Dublin, Athens, Heraklion, Thessaloniki, London, and Manchester.
The carrier had a shaky start in August 2016 when they were investigated by the Cypriot Transport Ministry for huge delays in flights. Since then, their operations have appeared to be more than sufficient and functional. This resulted in the resignation of Andrew Pyne, the CEO and Founder of the airline few months after launching flights.
2017 saw the airline fill the gap for the Paphos-Athens route when Ryanair pulled out of the route in March 2017. The airline hopes to acquire an Airbus A330 aircraft in the Summer of 2017 to start long-haul flights from Cyprus. As of April 2017, they fly to 16 destinations in 10 countries within Europe and the Middle East with a total of five Airbus A319 and A320 aircraft, with an additional two on order.
The airline has launched flights to Zurich, Birmingham, Athens and will be launching services to Beirut from May 1. On an operational basis, they seem to be placing their foothold across Europe, and even with their Airbus A330s on the way in the summer, the carrier aims to expand into long-haul at a very rapid rate. It is, however, too early to tell whether Cobalt is performing well or not as they still have yet to publish their yearly earnings.
In terms of competitors, they do have Ryanair, easyJet, Norwegian, Aegean, MEA, El Al and many other carriers in the market that could thrive in the same destinations that Cobalt already operates in.
Some routes would be in direct competition and could cause a reduction in flights in order to keep the most competitive airlines in the densely popular destinations. It will be interesting to see how they perform against so many low-cost competitors.
All-in-all, from an initial perspective, the airline is off to a good start after a shaky beginning and could potentially become a game-changer within the European and Middle Eastern markets.
James is a passionate AvGeek who has been actively spotting for years. James has been an Aviation Enthusiast for 7 years and has a fond likening to Concorde! James hopes to grow in the aviation industry with journalism being his primary focus.
Latest posts by James Field (see all)