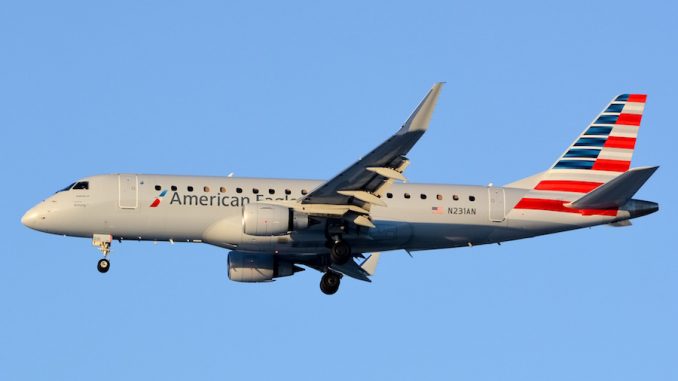 Date: April 30, 2017
Flight: AA 3460
From: Calgary International Airport (YYC)
To: Dallas/Fort Worth International Airport (DFW)
Class: Business
Seat: 3D
Flight Duration: 3:46
Introduction
This past weekend, my family and I decided to surprise my aunt and uncle in Edmonton, Canada on Saturday night. This meant we had to catch the Saturday morning flight up to Calgary and drive two and a half hours to Edmonton. In order to catch our 2:30 PM return flight out of Calgary, we had to leave Edmonton at 8:30 AM to get to Calgary around 11 AM. Needless to say, it was a quick yet tiring weekend trip.
Just recently, Calgary opened a new international terminal and I have to say, I was impressed. The new terminal was very spacious compared to the old one and had many more dining and shopping options than the usual Tim Hortons and Wendys you find all over Canada. Another enhancement to the airport was floor to ceiling windows which offered great views of the ramp, Downtown Calgary, and the Canadian Rockies.
The overall process in the new terminal to get from the check-in to the gate was pretty quick as we were able to breeze through security and the U.S. Customs Preclearance in about 15 minutes. When previously flying out of Calgary's old terminal, this entire process could sometimes take 45 minutes to an hour.
Boarding and The Flight
What is interesting is that the flight from DFW to Calgary used to be operated by American Airlines with their MD-80s, but was recently switched to American Eagle and their Embraer 175s.
Outfitted with a business class cabin, I was interested to see what a premium class offering would look like on a regional carrier since all of the American Eagle flights I have ever flown on used Embraer 145s.
The business class configuration on board American Eagle's E175 is in a 2-1 format. I would have preferred to have the one window/aisle seat but I will take what I can get. Being of a somewhat average height and build, I would say the seats were pretty spacious and the leg room was great.
Boarding was pretty quick, as there were only 65 passengers onboard the flight, and even though it was raining pretty hard in Calgary, we were able to depart on time.
The total time from pre-takeoff drinks to wheels-up was about 15 minutes. Once in the air though, the flight was quite bumpy due to storms in the area.
The FA then came around to get everyone another round of drinks, so I opted for a Heineken. Call me crazy, but beer tastes even better 30,000 feet up. However, I was disappointed to not receive any mixed nuts to go with the drinks this time around. We were puzzled since we had received them on the way up. It is worth noting that the mixed nuts were served cold due to the E175's lack of heating devices.
About five minutes later, the flight attendant came through to collect everyone's lunch order. There were two choices, a pastrami sandwich with a side salad and a pecan-crusted chicken salad. Having the sandwich on the way up, I decided to go with the chicken salad.
Overall, the inflight meal wasn't bad. The salad was tasty and the chocolate cheesecake was pretty good. However, I would have preferred to have the chicken a little warmer.
Since there are no IFE screens onboard Eagle's E175s, I essentially passed the remaining two or so hours by reading American Way, American's premium inflight magazine, Celebrated Living, and napping. After a few bumps throughout the flight and a windy approach, we touched down a little after 7 PM and made our way to DFW's Terminal B.
Bottom Line
With this being my first time to sample American Eagle's business class offering, I would say that it was a nice attempt. The seats were comfortable and the food was decent, but since most of their flights are no longer than two hours, I would be fine with roughing it in the main cabin with a small snack. Would I fly business on Eagle again? If upgraded, yes. If having to pay out of pocket, probably not.
An "AvGeek" for most of his life, Akhil has always been drawn to aviation. If there is an opportunity to read about an airline, fly on a new airplane, or talk to anyone about aviation, he is on it. Akhil has been on over 20 different kinds of aircraft, his favorite being the MD-80. Additionally, he has visited 5 continents and plans to knock out the remaining two (Africa and Antarctica) soon. Based in Dallas, Akhil graduated from Texas A&M University with a degree in Management Information Systems and currently works in consulting. His dream is to become an airline executive.
Latest posts by Akhil Dewan (see all)