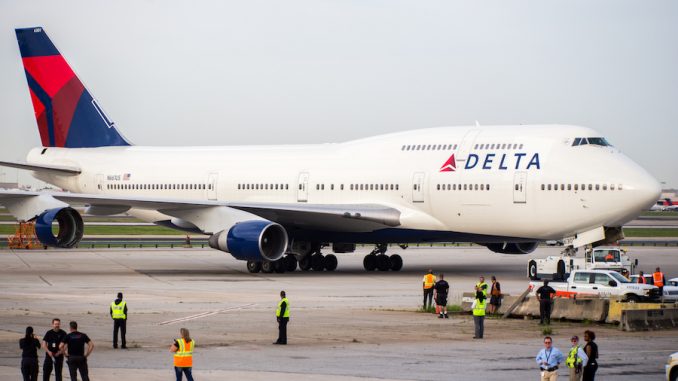 The iconic Boeing 747 has become a dying breed in the U.S. While airlines around the world, including British Airways and Lufthansa, will continue to operate the aircraft in the foreseeable future, U.S. airlines are saying goodbye to the "Queen of the Skies."
Delta and United remain the only carriers in the U.S. that still maintain diminishing fleets of 747s in passenger configurations. Delta only has seven 747-400s in its current fleet, falling short to United with a count of 18 frames.
While Pan Am was the launch customer for the first 747 in 1970, both Delta and United have a long-standing history with the aging aircraft type.
The Boeing 747 started service with United in August 1970, coined as the "Friend Ship," on flights from San Francisco and Los Angeles to Hawaii. The first 747 aircraft in United's fleet was aircraft N4703U which was delivered in June 1970 from Boeing's manufacturing facility in Everett, Wash.
Through the years, the airline has operated a majority of the 747 variants, including the 747-100, 747-200, 747-400, and the 747SP with a total of 88 in the airline's current and historic fleet, according to data from Planespotters.net.
United may have been consistent with its 747 operations, but Delta has a different story. The carrier operated the 747-100, 747-200, and 747-400 variants, with the first being N9896, "Georgia Belle," which also entered service in 1970.
The double-decker aircraft was popular in Delta's fleet for only seven years before they were returned to Boeing in 1977.
On April 23, 1977, the last of the five 747-100s was returned to Boeing. Piloted by Capt. Beverly Dickerson, who had also flown the first scheduled Delta 747 flight, ship 105 returned to Washington State. Citing low load factors on domestic routes, the airline would not see a 747 fleet again until the Northwest merger in 2008.
With only a few remaining in these legacy carriers' fleets, there are still plenty of ways to hitch a ride onboard a U.S. based 747. United has moved the entire 747 fleet to San Francisco, while Delta keeps their few remaining 747s in Detroit. Combined, the two fleets have an average age of around 23 years.
The oldest 747 still operating in a passenger configuration for a U.S. airline is N662US, which was delivered to Northwest in March 1989. The aircraft continues to fly from the airline's Detroit hub. Conversely, United operates one of the newest 747-400s, N174UA, which was delivered in May 2000.
There are still a handful of Asian and European routes that the aircraft continue to operate on a scheduled basis. For United, these routes include flights from San Francisco to Shanghai, Beijing, Tokyo-Narita (to be replaced with the more efficient Boeing 777-300ER on June 14, 2017) Taipei, London, Frankfurt, and Seoul.
Delta currently flies their 747s from Detroit to Tokyo, Seoul, and Shanghai. In addition, the carrier also utilizes the airplane on flights within Asia, including to Tokyo and Honolulu.
A list of scheduled and bookable 747 flights for both United and Delta:
*Data captured on May 5, 2017 – Subject to change 
In a statement to airline employees, United President Scott Kirby said, "It's a bittersweet milestone — this jumbo jet with its unmistakable silhouette once represented the state-of-the-art in air travel. Today, there are more fuel-efficient, cost-effective and reliable widebody aircraft that provide an updated inflight experience for our customers traveling on long-haul flights."
For lovers of the classic 747-400, only a few months remain until the U.S.-based fleets are retired. United and Delta are slated to retire their respective fleets by the last quarter of 2017. Both carriers are expected to send off the one of a kind aircraft with a plethora of celebrations.
Ryan founded AirlineGeeks.com back in February 2013 (actually, it was called Aviation Official, but we've changed a bit since then). From being on the yoke of a Piper Navajo, to visiting about Delta's operations center in Atlanta, Ryan has done it all. in 2016, along with American Airlines, Ryan masterminded AAviationDay at more than 10 locations around the world. The smell of jet fumes in the morning along with the countless number of passionate airline employees keep him enthralled in the industry, always seeking more. You can find him helping out travelers at Reagan National Airport near Washington, D.C. when he's not doing something for AirlineGeeks.
Latest posts by Ryan Ewing (see all)