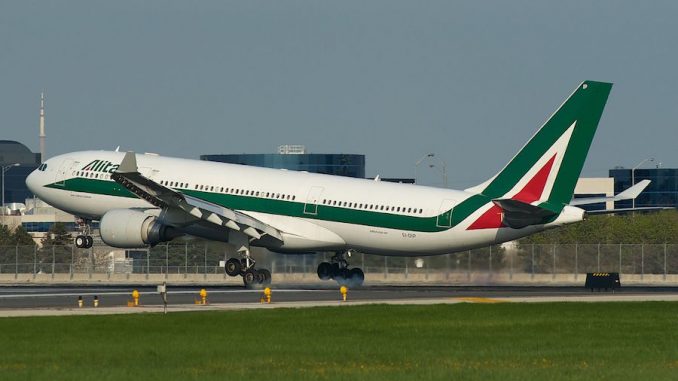 On Tuesday, Alitalia announced that they have gone into administration following staggering losses within the carrier. The move to go into administration was formally approved by the Italian government and Alitalia shareholders.
The Italian government is expected to give the airline 600 million Euros to continue operating flights while a refinancing and restructuring take place, valued at 2 billion Euros.
In a statement, the airline stated: "The Board of Directors, which convened after the shareholders meeting, having acknowledged the serious economic and financial situation of the Company, of the unavailability of the shareholders to refinance, and of the impossibility to find in a short period of time an alternative, has decided unanimously to proceed with the filing for "amministrazione straordinaria"  (extraordinary administration) in compliance with the Italian law."
James Hogan, Chief Executive of Etihad and the owner of 49% of Alitalia also added, "We have done all we could to support Alitalia, as a minority shareholder, but it is clear this business requires fundamental and far-reaching restructuring to survive and grow in future. Without the support of all stakeholders for that restructuring, we are not prepared to continue to invest."
From an employment perspective, 12,500 workers could lose their jobs as a result of the carrier going into bankruptcy. Alitalia employees have yet to approve this motion set out by shareholders. Earlier last week, employees voted against the plan to cut jobs and salaries that would have enabled Alitalia to secure new investment to stay afloat.
Etihad's Standpoint: How Do They Play in the Politics Game?
Alitalia accepted Etihad's offer of investment back in June 2014 in return for 49% of the business. At that time, Alitalia had debts of 800 million Euros and had approved plans for a 300 million Euro capital increase to reduce the chances of bankruptcy.
Etihad was confident at the time as they mentioned that the deal would give more choice to air travelers that would be flying to, through and from Italy. Investments rose upwards of 1.25 billion Euro over four years. The carrier said that the investment was an "excellent outcome" and would "provide financial stability" to the carrier.
Nearly three years on and Etihad's investment appears to not have paid off. The timing for this comes at an interesting time for Italy. With investment more than likely looming towards one billion Euros from the Abu Dhabi-based carrier, what more can they do? The Italian government has called for the administration teams in Italy to find potential buyers to help save the carrier.
With Italian politics playing a considerable part in the issue, this puts Etihad in a difficult position as they somehow have to find a return on their sizable investment into the Italian aviation sector.
Many Italian politicians have gone against bailing out the carrier again, especially due to the upcoming elections in 2018. According to the BBC, an opinion poll stated that 77% of the Italian public want the airline to fail.
Another reason this puts Etihad in a difficult place is that the political issue of Alitalia divides the nation further. If they were to bail the carrier out again, it would be hoping for a "third-time lucky" scenario as they have bailed them out twice before, once during the financial crash of 2008.
As mentioned, the bail-out of the carrier is not a popular option and could put Rome in a state of paralysis if they were to spend even more money. The Italian government has spent over seven billion Euros over the past decade on the carrier in order to enhance its success.
The Italian population is definitely against the idea of spending even more money on it, which requires more private investment from the likes of Etihad and other outside companies that are interested.
Is This The End?
This bankruptcy could not have come at a worse time. Unless they find some private investors that are looking to invest in a company to turn-around, then they have no chance of survival. They require a fresh company, who are more outsider-based to come around and restructure the carrier efficiently so then profitability returns.
Although this would mean job cuts, it would take Alitalia out of a hairy situation.
As for Etihad, it puts them in an even more pressing position. As a carrier that owns 49% of the Italian airline, they need to figure out what they want to do also. Do they want to just sell everything and leave the carrier behind, or do they want to stick it out further and potentially invest more money and take-over the entire carrier?
If Alitalia were to disappear, it would leave a huge gap in the Italian market in terms of potential airlines to come in and grab the market share that would be much needed amongst several European carriers such as Ryanair, Norwegian, Vueling, and easyJet as well as the international big-hitters like Etihad, Emirates, American and United to name a few, with the list growing ever more every year.
All-in-all, it will be interesting to see how the legacy of Alitalia transpires, whether it be for the worst or for the best. If for the worse, it will transform Italian aviation for years to come.
James is a passionate AvGeek who has been actively spotting for years. James has been an Aviation Enthusiast for 7 years and has a fond likening to Concorde! James hopes to grow in the aviation industry with journalism being his primary focus.
Latest posts by James Field (see all)