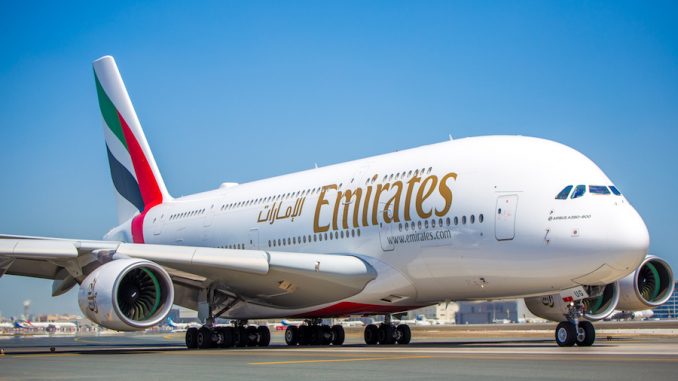 Emirates has cemented itself as one of the world's largest airlines, a result occurring thanks to its exponential rate of expansion over the last several decades.
As the largest carrier in the Gulf, Emirates is known around the world for sponsoring some of the biggest sports teams, becoming a true powerhouse in the world of aviation. In just 32 years, the airline has gone from operating just three flights with four lease aircraft to operating a fleet of 256 aircraft to 152 destinations around the world. The Dubai-based airline also currently operates one of the youngest fleets in the world, a task that is not to be taken lightly due to the immense size of the fleet.
While the airline continues to build out its future, it becomes just as important to take a step back to learn more about the history of how Emirates grew to become the giant that it is today.
The Beginning
The 1980s was when the 'Emirates' brand turned from a concept to reality. The idea for Emirates was brought up when Gulf Air, who were operating flights in and out of Dubai at that time, had decided to cut back on its number of flights. This move by the airline became increasingly concerning for those in Dubai, fearing that they were helping other airlines by only serving as regional feeder flights.
It was the year 1984 when Sheikh Mohammed Bin Rashid AL Maktoum and Sir Maurice Flanagan sat down to discuss launching a new airline in Dubai. Sir Flanagan was appointed to set up a new airline with $10 million, entrusted after his success of working at Dnata, or the Dubai National Air Transport Association. The airline soon found its business model, leaving just the name to be decided. With both Dubai Airlines and Emirates, he only put two names on the table, Sheikh Mohammed opted for his country's new airline to be called Emirates. One year later, the $10 million capital investment was soon repaid, concluding a successful start-up of the carrier.
Following the launch of Emirates on March 25, 1985, the airline was required to work and function without any state subsidies from its government. With Sheikh Ahamed as Chairman and Sir Maurice as CEO, the airline started its journey. Tim Clark, who would become the future president of the airline, had also begun to work for Emirates at this time. Without enough money to purchase aircraft, a deal was made with Pakistan International Airlines who agreed to the wet-lease of two aircraft, a brand new Boeing 737-300 and an Airbus A300 B4-200.
On top of this, the Dubai Royal family gifted Emirates two additional aircraft from the Dubai Royal Air Wing, giving the airline two Boeing 727-200 aircraft. Emirates then moved quickly to secure deals and routes, with agreements for flights to Karachi, New Delhi, and Bombay. Emirates then conducted its first commercial service flight on Oct. 25, 1985 to Karachi under the flight number EK600.
Emirates would go on to have an outstanding first year as a new carrier. In fact, they were so successful in their first year of operation that Gulf Air saw a 56 percent drop in profits, which then moved onto a further loss the following year. In the year that followed, Emirates would grow so quickly that they opened an additional four routes, offering its customers flights to Amman, Colombo, Cairo, and Dhaka. 
The airline continued to move forward and in 1987 with the purchase of their first ever new aircraft: an Airbus A310. The airplane was built to specifications that Emirates had put forward to Airbus in their bid to offer passengers a superior flying experience compared to its rivals.
Emirates had now in the first seven years of its life been recording a steady average growth rate of 30 percent. In 1988 Emirates adds Damascus to its route network, becoming the 12th destination around the world, in only 38 months of business.
Further Growth in the 1990s
By the very early 1990s, Emirates had secured itself as one of the world's fastest growing airlines, their revenue was around $100 million each year and had increased to a number close to $500 million by 1993. The same year, Emirates would change the trend in the industry and continue with its expansion plans, despite the Gulf War breaking out.
1991 would also prove to be a landmark moment in Emirates' history as this was the year that they were finally able to obtain a slot at the ever growing London Heathrow Airport which was fast establishing itself as a hub for world business.
1992 saw the introduction of personal in-flight entertainment systems throughout the cabin onboard the whole fleet. This was something that British Carrier Virgin Atlantic had done the year before in 1991, but it had only implemented it onto one of its Boeing 747s at this point. Emirates also this year become the first airline to order a $20 million full-flight Airbus Simulator. They then set about on striking a deal with the French government to allow the airline to fly in and out of Paris. 
At the same time, the airline was running out of space, resulting in an executive decision being made to spend $2 million on a terminal at Dubai International Airport that would serve Emirates exclusively. Emirates would eventually move to Terminal 3, which was built at a cost of $4.5 billion and opened on Oct. 14, 2008. Terminal 3 is currently the second largest building in the world in regards to floor space.
When the Autumn of 1993 started a partnership was established, this partnership would propel Emirates to further success, as it was now able to partner with US Airways to offer round-the-world flights. This was not it's first co-operation, as it had previously held a partnership agreement with Cyprus Airways. As 1995 grew closer to ending, Emirates was celebrating its 10th birthday. This year also saw Emirates move into the African market, with the airline launching flights to Nairobi, Kenya and Johannesburg, South Africa.
In 1996, Emirates received its first Boeing 777-200 aircraft, this was then shortly followed by six Boeing 777-200ERs. The 777s would prove to change the world of aviation and how people traveled with the aircraft, at the time being the most efficient active service aircraft of its time. The introduction of the 777s into Emirates fleet allowed the airline to continue to expand its services to Australia connecting via Singapore. This route would prove to be very popular and profitable to Emirates which in response increased their services to Australia by adding new destinations.
In 1998, Emirates Sky Cargo was launched. Emirates has already offered cargo services but was previously done with spare space in their passenger aircraft. Emirates Sky Cargo was expanded with a fleet of its own, crew, maintenance and an insurance lease with Atlas Air initially for one Boeing 747-200 freighter.
In the same year, Emirates bought a 43.6 percent stake in SriLankan Airlines, which at the time was known as Air Lanka, from the government of Sri Lanka.  This deal meant that Emirates had a 10-year contract in which they would manage SriLankan Airlines. By January 2008, Emirates announced that they would be ending the management contract they had with SriLankan Airlines from April of 2008. Emirates would then go on to sell their share of 43.6 percent in the airline back to the Government of Sri Lanka as a deal that was estimated to be in the region of around $150 million.
In the year of 1999 Emirates received the first of 17 new-generation Airbus aircraft, the Airbus A330-200. At the same time, the UAE Government was beginning to grow ties with Australia which Emirates took advantage of. Later that year, the carrier began passenger flights to Sydney, Brisbane, and Perth with the airline already serving Melbourne. 
A New Decade of Expansion
Although the 20th Century came to a close, Emirates was not finished and continued to show astonishing growth for the next 17 years. The carrier kicked off the new Millennium by being the first airline to sign up for Airbus' upcoming A380 with an order for seven aircraft, with an option for five more.
The airline was not immune to the financial implications that followed the bombing of Colombo Airport which destroyed three SriLankan aircraft and damaged three others, affecting half of the entire fleet. Other major challenges were right around the corner, including the global recession of 2000 and the terrorist attacks on Sep. 11, 2001.
However, the airline responded and sent shockwaves after announcing an order for 15 Airbus A380s, eight Airbus A340-500s, eight Airbus A330-200s and 25 Boeing 777s. The Skywards loyalty program was also born. Inadvertently, as major worldwide airlines pulled their routes out of the region, Emirates was able to capitalize on the opportunity.
As the end of the year approached, Emirates was planning long-haul services to the East and West Coast of the United States, as well as improving their current services with non-stop flights now to Australia and Brazil. By the year of 2002, Emirates had seen their passenger figures increase 18 percent to over 6.8 million whilst worldwide figures dropped by four percent.
In 2003 at the Paris Airshow, Emirates signed an order for 71 aircraft at a cost of $19 billion, the order included a firm purchase of 21 Airbus A380-800s and lease orders for two A380-800s. Emirates also announced an operating lease for 26 Boeing 777-300ERs.
In 2004, Emirates began flying non-stop services to New York City's John F. Kennedy International Airport using their then new Airbus A340-500 Aircraft. These new flights marked the resumption of services between the United Arab Emirates and the United States for the first time in two years, after Delta Airlines withdrew its flights in 2001, restarting this service again in 2007.  In 2005 Emirates then ordered an additional 42 Boeing 777s in a deal worth $9.7 billion which is marked as the largest Boeing 777 order in history.
In the year 2007, Emirates made an order worth over $34.9 billion at the Dubai Air Show, with the contracts featuring 70 Airbus A350s, 11 A380s, and 12 Boeing 777-300ERs. The order for the A350's was later canceled on June 1, 2014, driven by Airbus changing the A350 with more powerful Rolls-Royce Trent XWBs, which is a different aircraft from the original contract that Emirates agreed upon. In the same year, Emirates became the first carrier to offer non-stop services between the Middle East and South America. It also started operations for its $120 million flight catering center at Dubai International Airport. By the time we arrive in 2009, Emirates had become the world's largest operator of the Boeing 777 aircraft when it received its 78th that year.
On September 6, 2012, Emirates and Qantas signed a 10-year agreement to set up a major alliance, which would see Qantas move its hub for European flights from Singapore to Dubai International Airport and also marked the end of Qantas' 17-year revenue-sharing agreement with British Airways on services between Australia and Britain. Emirates also used the agreement to offer its passengers flights to many European destinations and also more than 50 domestic destinations across Australia.
It was on April 9, 2015 when Emirates' CEO and President, Tim Clark, confirmed that Emirates would adopt a two-class A380 with the first class section being removed to allow for 615 passengers across their business and Economy class cabin. The first A380 with this new layout conducted its first commercial service flight from to Dubai to Copenhagen on Dec. 1, 2015.
In March 2016 the airline started operation of the world's longest A380 service from Dubai to Auckland, which is a flight time of 17 hours and 15 minutes, even though this service was later changed to be operated by a Boeing 777. This change came in less than one year of the service but still remains as the record for the longest A380 flight. 
By the end of the year, the airline pushed out the last of their original fleet, retiring the last remaining A330 and A340 aircraft, leaving behind a fleet of only A380 and Boeing 777 aircraft. In December, Emirates began operation of the world's shortest and longest A380 service, offering a 1 and 20-minute flight from Dubai to Doha. This new route overtook Emirates' original record for the shortest A380 flight from their Dubai to Kuwait, with a flight time of 1 hour and 45 minutes. 
A Bright Future Awaits
Even now in 2017, Emirates continues to place large orders for aircraft as they continue to move towards their goal of eventually moving some of its operations into Dubai World Central Airport. It is possible that Emirates will replace their current fleet of Boeing 777s with this new order of 150 Boeing 777x, and with Emirates now offering flights to 152 destinations, it is clear that the future is bright for the UAE-based carrier. 
Tomos has had a keen interest in aviation for over 10 years and 4 years ago he decided to take it to the next level. He currently holds a private pilot's license and is working towards his commercial license.
Latest posts by Tomos Howells (see all)