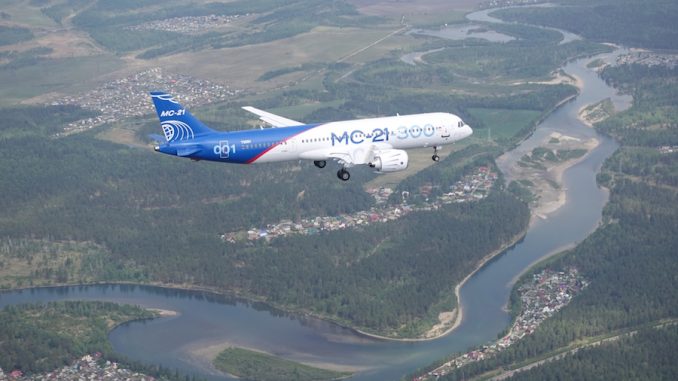 The MC-21-300 commercial jet took off on its first flight from Irkut's manufacturing facility in Irkutsk, Russia on Sunday. This unannounced first flight is a milestone for the program as the manufacturer aims to compete with Boeing and Airbus for narrowbody aircraft development.
The initial flight lasted approximately 30 minutes while maintaining an altitude of 3,280 feet (1,000 meters). The test frame reached a speed of 186 miles per hour (300 km per hour).
Yury Slyusar, the President of Russia's United Aircraft Corporation (UAC), added, "MC-21 is created in a wide cooperation, where together with Irkut, other enterprises of the United Aircraft Corporation are actively participating, namely Aerocomposite company, Ulyanovsk and Voronezh aircraft plants, UAC Integration Center in Moscow."
According to the manufacturer, the first flight tested inflight stability along with powerplant operations. The aircraft also performed a missed approach, climbing and turning over the runway.
At the helm of the maiden flight were test pilots Oleg Kononenko and Roman Taskayev. Kononenko reported an uneventful first flight adding, "…[the] flight mission is accomplished. The flight went in the normal mode. There are no obstacles revealed preventing the tests continuation."
Slyusar continued, "This is an important stage in the formation of the new UAC industrial model. According to our estimates, the global demand in the MC-21 segment will be about 15,000 new aircraft in the next 20 years. I'm sure the airlines will appreciate our new aircraft."
The MC-21 is the nation's latest generation commercial aircraft with seating for 163 to 211 passengers and a unit cost decrease of around 12 to 15 percent compared to competing models.
Also, customers are given two engine type options when purchasing the aircraft: U.S. manufactured PW1400Gs or Russian-made PD-14s. This option is a first for aircraft manufacturing in Russia.
There are currently 175 firm and prepaid orders for Irkut's MC-21 aircraft, including to Aeroflot and UTAir. among additional leasing corporations.
Russia has a long-standing history of manufacturing commercial aircraft. Since 2005, 36 civil aircraft have been delivered, including the Sukhoi Superjet and the Antonov An-148.
Photos
Photos courtesy of the Irkut Corporation 
Ryan founded AirlineGeeks.com back in February 2013 (actually, it was called Aviation Official, but we've changed a bit since then). From being on the yoke of a Piper Navajo, to visiting about Delta's operations center in Atlanta, Ryan has done it all. in 2016, along with American Airlines, Ryan masterminded AAviationDay at more than 10 locations around the world. The smell of jet fumes in the morning along with the countless number of passionate airline employees keep him enthralled in the industry, always seeking more. You can find him helping out travelers at Reagan National Airport near Washington, D.C. when he's not doing something for AirlineGeeks.
Latest posts by Ryan Ewing (see all)