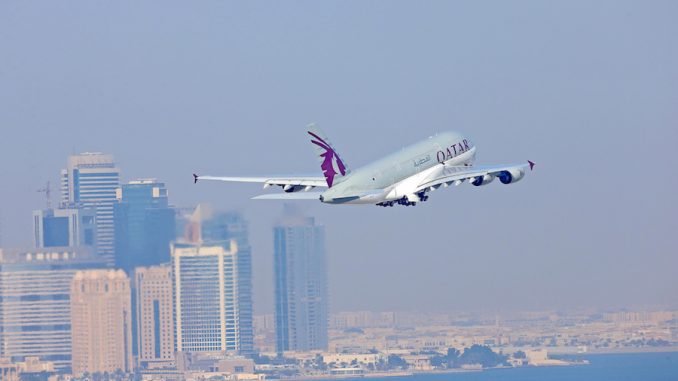 On Monday, multiple Gulf carriers announced they are suspending services to Qatar amidst a growing dispute between Qatar's government and several Arab countries on terrorism concerns in the region.
The carriers, which include Etihad, Emirates, Fly Dubai, Gulf Air and Saudia began cutting services, offering affected passengers a variety of options, including the option to rebook to alternative destinations or be issued a full refund.
Several of the carriers took to social media to highlight the changes, with both Etihad Airways and Saudia announcing on Twitter the suspension of all services to Qatar until further notice. The announcements came after the Saudi Arabian Aviation Authority, the General Authority of Civil Aviation (GACA) issued a ban, preventing all Qatari airlines and their respective aircraft from landing within Saudi Arabia while also preventing Saudi registered aircraft from operating to Qatar.
Emirates took to their website for the announcement, indicating that "as instructed by the UAE government, Emirates will suspend its flights to and from Doha, starting from the morning of 6 June 2017, until further notice."
From 6 June, Emirates is suspending flights to and from Doha. Affected customers should visit https://t.co/p9w3QNe00D for more information.

— Emirates airline (@emirates) June 5, 2017
The last flight to Doha is expected to depart from Dubai at 02:30 a.m. on June 6, with the final return flight due to depart at 03:50 a.m. the same day.
Meanwhile, Qatar Airways announced it would also cease operations to Saudi Arabia on Monday, providing no additional information as to how long the suspension would last and whether other destinations would be affected. It is suspected that Qatar Airways could be faced with further disruption to its services, as many of its flights travel through Saudi Arabia Airspace.
The nation's Aviation Authority, GACA, indicated that all airlines and non-registered aircraft from Saudi Arabia or Qatar would need to contact the authority prior to traversing its airspace to determine the procedures of operation within it.
With the Gulf states closing their airspace to flights from Qatar, Qatar Airways could face significant disruption on its services as flights look to find other routes around the region. It is currently not known how long the suspensions will remain in place, and Qatar Airways has yet to comment on how it will affect its other services.
AirlineGeeks.com's James Dinsdale and Josh Drabble contributed to this report
AirlineGeeks.com began in February, 2013 as a one-man (er… teenager, rather) show. Since then, we've grown to have 20 active team members, and yes, we're still growing. Some of us are looking to work in the aviation industry as professionals when we grow older. Some of us are still trying to decide what we want to do. That's okay though, because we're all here for the same reason: we love the airlines. We're the youngest team of airline industry journalists out there.
Latest posts by AirlineGeeks.com Staff (see all)